INDUSTRY LEADING 2HP FULLY ENGINEERED ELECTRIC HYDRAULIC SYSTEM BENDS OVER 90 DEGREES IN 12 SECONDS!
DUAL ADJUSTABLE AUTO ROTATION STOPS ENSURES CONSISTENT BENDS WITHIN A FRACTION OF A DEGREE, EVEN WITH DIFFERENT OPERATORS!
EASILY BEND 180-DEGREE "TACO" ROLL CAGE GUSSETS WITH OUR 180 DEGREE PRESS BRAKE!
FITS IN A STANDARD 20 TON SHOP PRESS, OR USE OUR SUB-$500 DIES IN YOUR EXISTING PRESS BRAKE.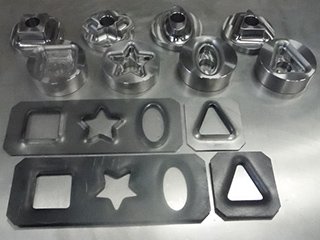 MAKE YOUR DIMPLING PLATE WORK UNIQUE AND GENERATE WORD OF MOUTH!
LET US SHIP YOU A SET TODAY AND STAND OUT FROM THE REST OF THE SHOPS IN THE WORLD
Drill Press Reduction Kit Reviews
Here is a review posted by Greg72, a moderator on the ColoradoK5 forum
"As you all know, it's been a rough few weeks and I haven't been making any efforts to get out into the garage to work on the truck project. A lack of motivation…. probably weather-related, time change….whatever. I just didn't care about it at all. Fortunately, Joe over at RogueFab saw my previous thread posts and contacted me about my drillpress issues, and we talked for a while about his reduction kits and how they would be a low-cost way to give me better cutting capabilities, and finish up all of those 2″ speedholes in the monolith crossmember. He suggested a 4:1 reduction kit based on my particular drillpress (Delta, Model 17-965) and a few days ago the kit arrived via UPS…… it gave me some motivation to get back into the shop and start spinning a few wrenches. Here's the holes I am trying to drill, and the kit that I received: (Diet Coke not included)
It consists of a large offset pulley mounting plate, and a set of 4:1 ratio pulleys that will cut the speed of the motor down to a fraction of it's previous setting (about 25% of original, I'd say!). Here is the original speed chart for my Delta. This is a woodworking drill press, so the spindle speeds are substantially higher than what you really want for metalworking…. as we all know, REAL metalworking drill presses are a LOT more money than the woodworking ones (I think I paid maybe $300 for this one brand new).
The idea of being able to drop these speeds in a cost-effective way was very tempting. Here's an example of how the setup will actually affect my spindle speeds using the slowest pulley combinations:

215 RPM -> 54 RPM
310 RPM -> 78 RPM
435 RPM -> 109 RPM
580 RPM -> 145 RPM

Nice…..

Step 1 is pulling the motor from the drillpress, though to be honest I probably could have installed the new plate without unwiring it completely. Live and learn. (left image). The next step is to install the pillowblock bearings and shaft onto the offset pulley plate…. (right image)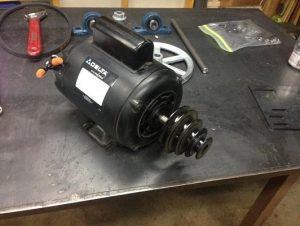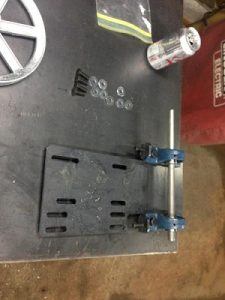 This gives you a place to drop on the large 8″ speed reduction pulley…. there is a small 2″ new pulley that gets installed on the motor itself, and the pulley stack that used to live on the motor, is transferred on top of that large 8″ pulley wheel. (In the next photo, the pulley stack is not installed yet)

You can also see that the sheetmetal pulley tray is interfering with the installation of the rear pulley and belt. This is not unexpected… you'll see the fix later on.

The only real tricky part is figuring out which way to install the large motor plate (pillowblocks facing forward vs. facing rearward) as this will affect the belt lengths and tension that you can apply to the forward belt that turns the drill spindle. I tried it both ways, and ended up with the pillowblocks facing forward as shown. The front belt has a little more slack than the rear belts but so far it seems like it's going to be OK.

Another thing I learned is that it's MUCH easier to install this kit if you lay the drillpress down on it's face so that you can work on the motor/plate installation horizontally. Trying to hold the all of those heavy parts up with one arm, while installing nuts and bolts with the other hand is nearly impossible…. you've been warned!

The final shot (right):
As you will notice, the kit doesn't really take up too much extra space and tucks-in pretty nicely. You DO have to make some cuts in the original sheetmetal pan and top cover of your drillpress so that you'll have adequate belt clearances…. a minor tradeoff, IMHO considering what you end up with as an end result.

Speaking of which….. the kit really WORKS! I set the pulleys to the slowest speed (54 RPM) and turned on the press and it's amazing how slowly the 2″ holesaw is spinning now. I can easily count the revolutions as they spin by, and there's a chance that it might even be a bit TOO slow at it's slowest setting. A nice problem to have…..

The other benefit that I haven't tested yet is the increase in useable torque. The frustration I was having at my old setting of 215 RPM was not only the excessive speed, but the fact that the cutter would drag and eventually stall-out halfway through the cut. With all of this additional gear reduction, I've got a LOT more torque available and I expect that my issues with stalling are over as well.

Overall, the kit looks really good… I am actually looking forward to getting back out into the garage again to cut some holes now, so perhaps that is the best feature of all…..!!"
From Henry in Wickenburg, AZ
He used our kit to get an inexpensive drill press to operate from 50-820 RPM!
"Even though I am modifying it (Drill Press Reduction Kit), what you sold me is exactly what I wanted, and is perfect. I like the setup you have for the jackshaft that makes everything nice and smooth. It's a very nice product!"
Brian From Spiral X LLC in Texas
This big Rockwell drill press (equipped with a RogueFab Reduction Kit) is used by Spiral X LLC, in Garland, Texas. Spiral X makes industry leading high performance air coolers, and drills thousands of large diameter holes in stainless steel every month.
 "The drill press reduction kit is working fantastic. I don't know how you would drill into stainless steel in production without it. We were able to pull in the drilling we used to outsource (although we are a little slow). For instance, on a piece I was paying $50.00 for, we are doing the drilling in 1 hour with a jig internally, saving jobs and of course money!"