INDUSTRY LEADING 2HP FULLY ENGINEERED ELECTRIC HYDRAULIC SYSTEM BENDS OVER 90 DEGREES IN 12 SECONDS!
DUAL ADJUSTABLE AUTO ROTATION STOPS ENSURES CONSISTENT BENDS WITHIN A FRACTION OF A DEGREE, EVEN WITH DIFFERENT OPERATORS!
EASILY BEND 180-DEGREE "TACO" ROLL CAGE GUSSETS WITH OUR 180 DEGREE PRESS BRAKE!
FITS IN A STANDARD 20 TON SHOP PRESS, OR USE OUR SUB-$500 DIES IN YOUR EXISTING PRESS BRAKE.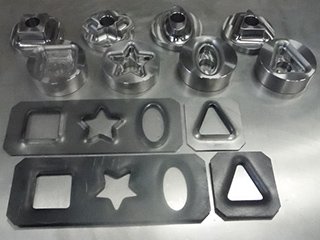 MAKE YOUR DIMPLING PLATE WORK UNIQUE AND GENERATE WORD OF MOUTH!
LET US SHIP YOU A SET TODAY AND STAND OUT FROM THE REST OF THE SHOPS IN THE WORLD
Mikkie In central Texas
This 2000 Chevy Z71 Truggy was built by Mikkie In central Texas
"I ordered Rouge Fabrication Centers because the design with the gusset is supposed to be stronger than most others, even in 3/8″. They are more expensive than others, but if it will keep me from having to build another set of wheels in the near future than it will be worth it. Joe was super helpful and spent a lot of time with me on phone customizing these centers. A+ in customer service. The product looks great and your customer service is even better! I have been super impressed with your quick emails and responses. The only concern I had, we talked about briefly, was that apparently there are different styles of 12-bolt wheels. Some with a different lip on the back side than others. So the gussets fit fairly well on my front wheels, but not as close on the back wheels. Again, this was not RogueFab's fault, just varying styles of wheels. (Note from RogueFab: We are making a second style of gusset to fit this other wheel geometry).The centers themselves fit great inside the wheel, and the bolt pattern fits great on the wheel studs. Overall, I am very pleased with the product, even more pleased with the customer service. My last set of centers (ordered from a different company) had to be drilled out on every stud hole to get them to fit over the wheel studs, as the bolt pattern was barely off. This lead to balancing issues and frequent loosening of the lug nuts."
Jonas of Carthage, TX
This killer buggy belongs to Jonas of Carthage, TX. It has an all aluminum 416 stroker LS3 wrapped in a full tube chassis. That power goes through an auto TH400, atlas 3.8 transfer case and narrowed Rockwell 2.5 ton axles. The wheels and tires are custom reversed H1 beadlocks made using Rogue Fabricaiton recentering kit and " 42 Irok stickies.
"Chunky" of Cottonwood, CA
This toyota belongs to "chunky" of Cottonwood, CA. This is an image mid-construction, he is converting to Rockwell 2.5 ton axles. He is running Rogue Fab H1 recentered wheels now, and plans to run them on the next axles too!
"I orderd these H1 centers and Joe is great to deal with."