INDUSTRY LEADING 2HP FULLY ENGINEERED ELECTRIC HYDRAULIC SYSTEM BENDS OVER 90 DEGREES IN 12 SECONDS!
DUAL ADJUSTABLE AUTO ROTATION STOPS ENSURES CONSISTENT BENDS WITHIN A FRACTION OF A DEGREE, EVEN WITH DIFFERENT OPERATORS!
EASILY BEND 180-DEGREE "TACO" ROLL CAGE GUSSETS WITH OUR 180 DEGREE PRESS BRAKE!
FITS IN A STANDARD 20 TON SHOP PRESS, OR USE OUR SUB-$500 DIES IN YOUR EXISTING PRESS BRAKE.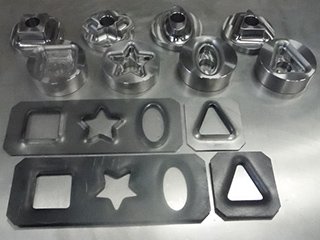 MAKE YOUR DIMPLING PLATE WORK UNIQUE AND GENERATE WORD OF MOUTH!
LET US SHIP YOU A SET TODAY AND STAND OUT FROM THE REST OF THE SHOPS IN THE WORLD
There are four factors you need to consider when it comes to tube bending: the material and machine you have along with the tooling and lubrication available. Here are basics on how to bend tubing and come up with the perfect bend at all times. Bending basics Learn...
read more
Also known as a drilling machine, the drill press is a device used to bore holes in a range of hard materials. It's usually fitted with an attachment widely regarded as the drill bit or driver bit. A chuck holds the attachment to one end of the drill bit in place. The...
read more