Description
This product is PATENT PENDING in the USA as of 2022. We are accepting pre-sales at this time. Tables and accessories will begin in Q4 2022 or Q1 2023. New photography and video content will be up on the web page very soon!
Standard features: Construction of tops are 5/16″ Surface with 1/4″ and 3/8″ ribs (They are STOUT). Legs are all 1/4″ construction, and they are easily removable. Lower self is incredibly strong, and pre cut for a 120 AC power network. Your new welding table will help you organize, not become a wiring/trip hazard!
Assembly: Assembly is 100% modular. You can start with a small 2'x4′ of 4'x4′ table, order more components a year later, and re-assemble the same parts into a 4'x6′ or 4'x8′ table exactly as if you had ordered a large table on day one! No other welding or fabrication table grows with your shop and business like a Rogue Fab Table! We have considered offering these as a weld together kit, but we currently only offer them with the tops pre-welded. Our modular construction allows an entire table (up to 4'x8′) to ship on a single standard pallet of around 1000 lbs. This will offer a considerable savings in shipping over our competitors, and (more importantly) greatly reduce the risk of damage in shipping.
Flatness: These tables are assembled here by professional welders. See notes and options below. The u-weld-it kits from our competitors have been analyzed for their flatness by professionals (search YouTube and draw your own conclusion). When you invest in something flat to use as a fixture for flatness, you're wasting your money if it isn't flat to YOUR standards when you're ready to use it. Each section bolts together and can be easily and precisely adjusted to be flat across all sections (or set with a curve like a flatbed trailer so it is FLAT WHEN LOADED!).
Manufacturing: The steel used to make these tables is produced by mills in the USA . That steel is precision CNC laser cut right here in Oregon at the same shop that air bends the legs and lower shelves on a high accuracy CNC press brake. We meticulously TIG or Pulse MIG weld all of the seams on every table. Any powder coating is done here in the USA. All boxes we use are made in the USA from locally produced (not imported) paper stock. We have our stickers printed in the USA. We have a blend of custom designed hardware and off-the-shelf hardware used on our tables and accessories. That hardware (small parts that fit in your hand) is a mix of Made-In-USA and imported. Nearly every component of the accessories are made here in the USA, right down to the smallest machined or laser cut parts. Many of the components for our 120V AC power system on these tables are made in the USA as well (by Arlington, Hubbell, and others).
The tables are available in a "Standard" configuration and also "with all options" including a suite of fabrication and fixturing accessories shown in the image below. Familiarize yourself with the names of these so that the all-options packages make sense!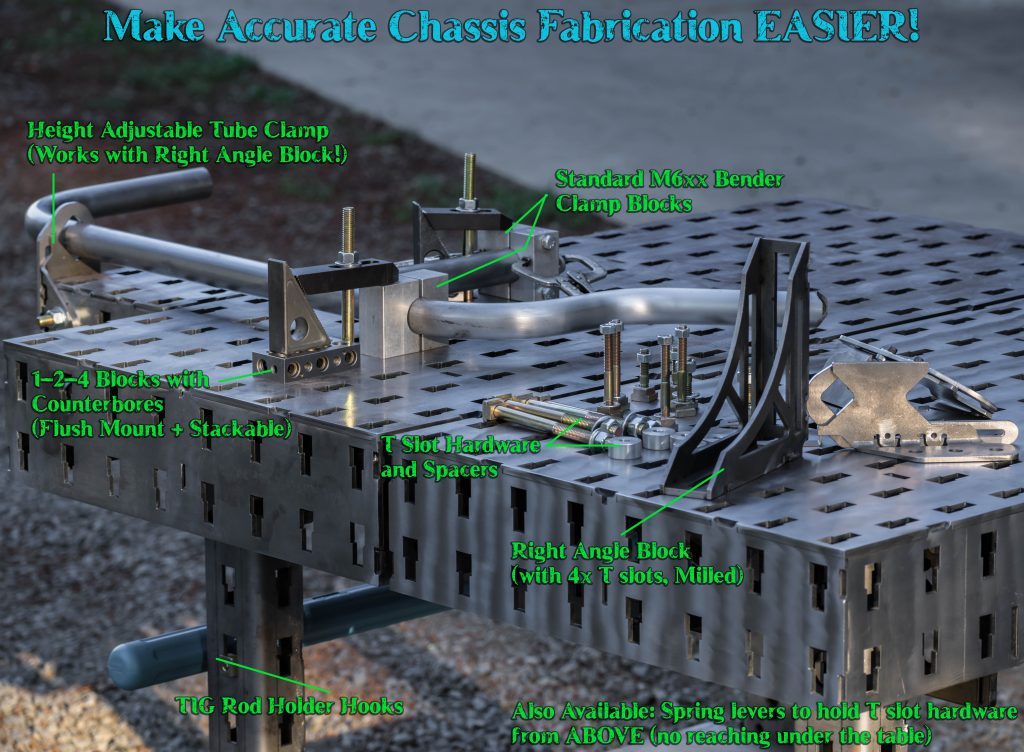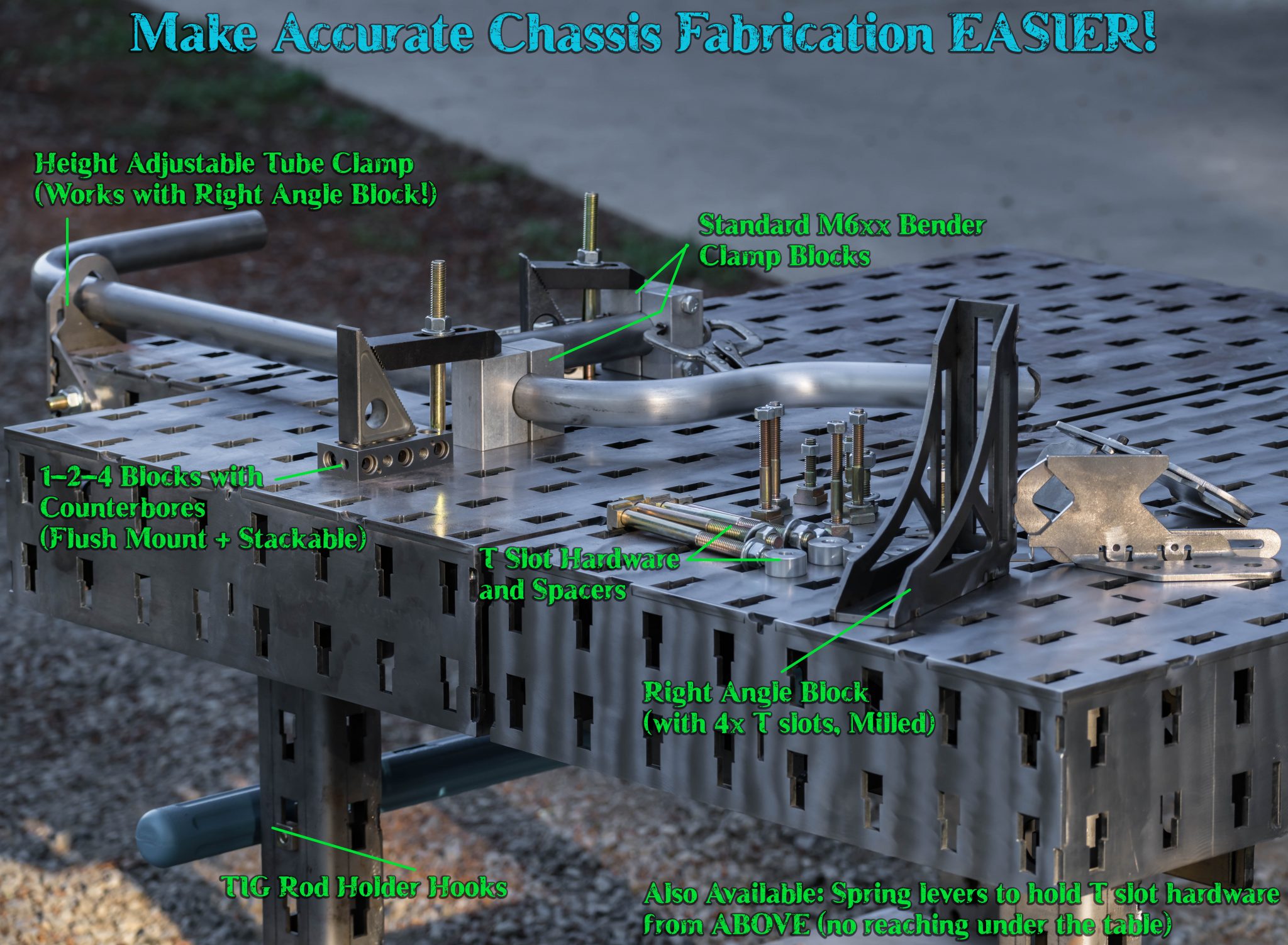 "Standard" Configuration of tables:
When you select our standard tables, the 2×4 table comes with one modular tops and 4 legs. The 4×4 table comes with 2 modular tops, hardware, 4 legs, and lower shelf. The 4×6 table comes with 3 modular tops, all hardware, 4 legs, and a lower shelf. The 4×8 table comes with 4 modular sections, all hardware, 6 legs, and 2 lower shelves. The tops are 5/16 high quality CNC laser cut steel backed by a massively rigid support system. We weld these in house to a guaranteed .035″ flatness tolerance (most areas of the table are within a fraction of that amount).
Complete Build List for "Standard" Tables: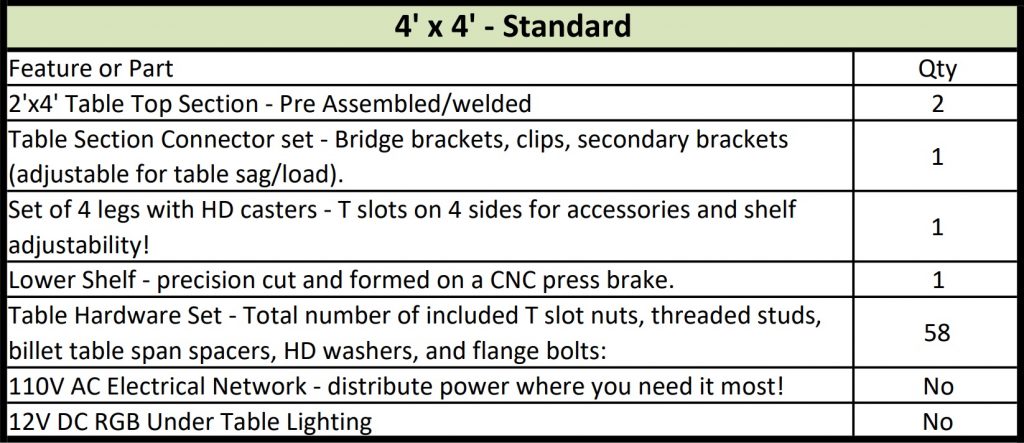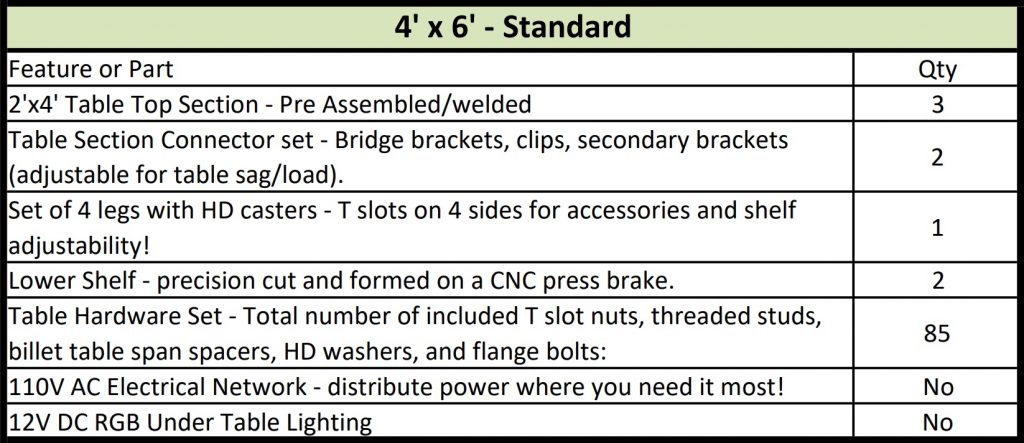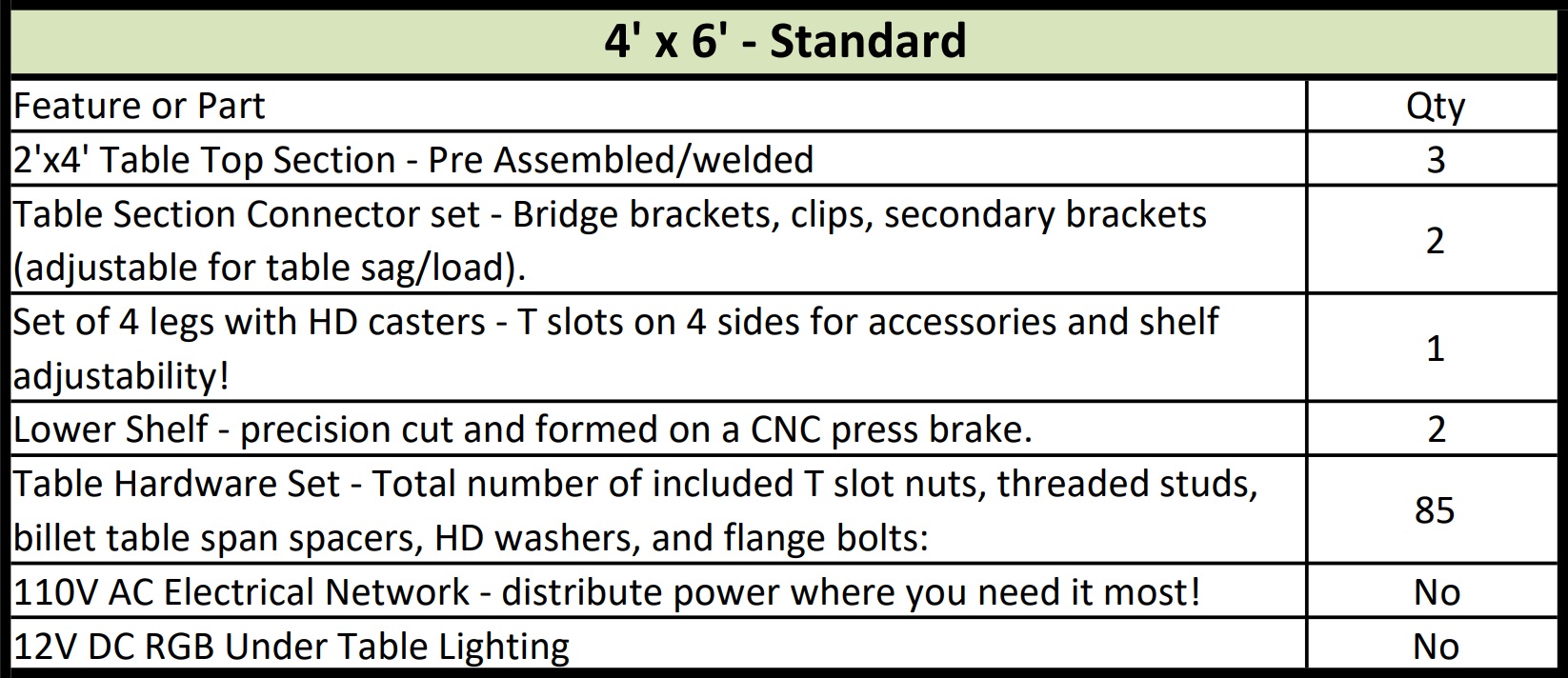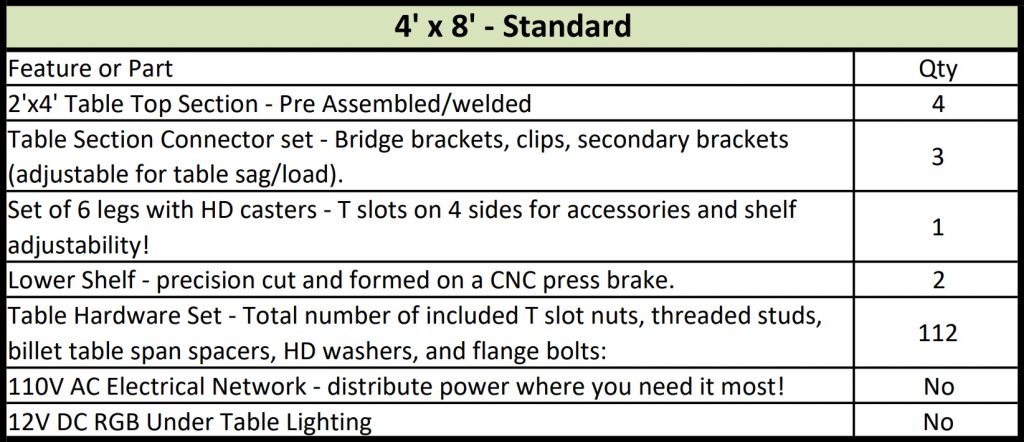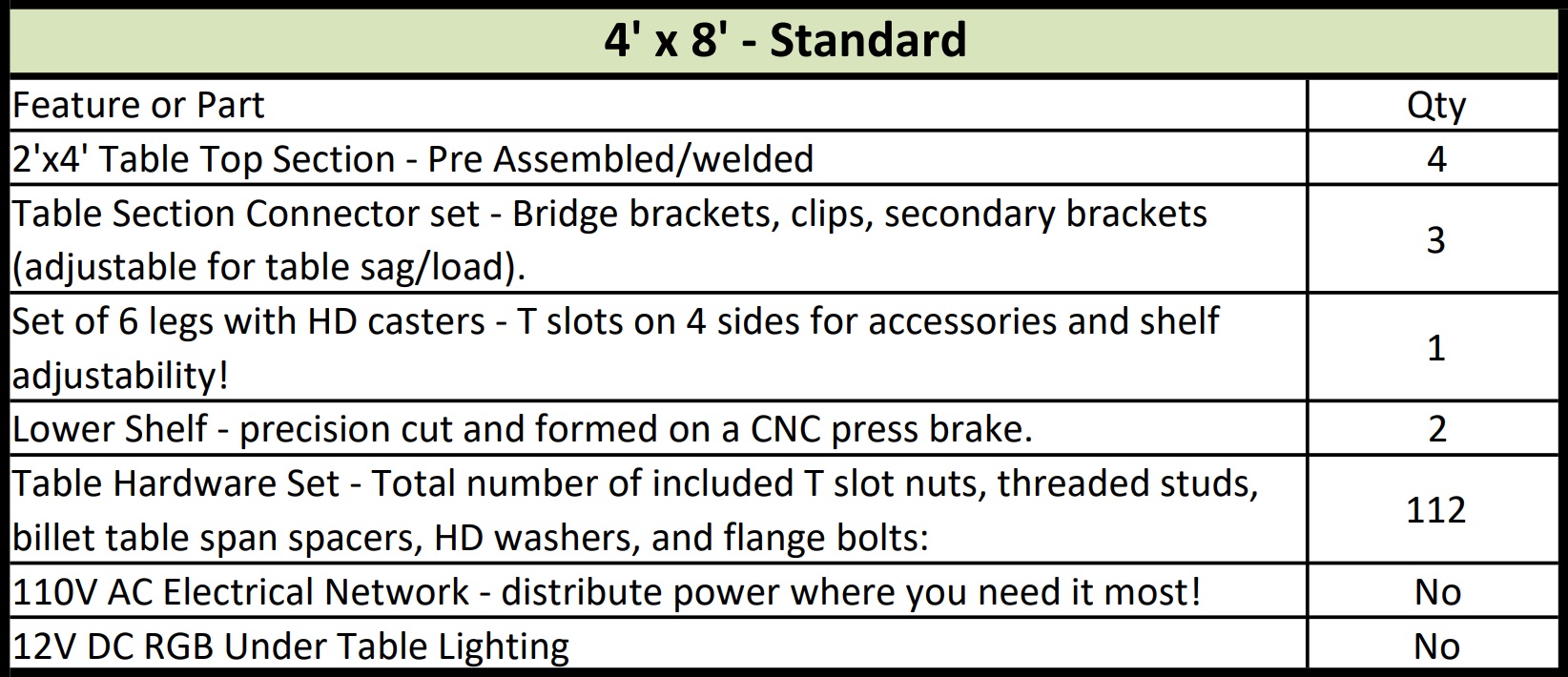 All tables ordered "with all options" include:
120 volt (AC) power network (no more tripping on grinder cords!). This is commercial grade, with Hubbell covers, stranded UL rated AC wire, liquid tight conduit, quick release supply cord, and more.
Powder coating or liquid painting: We powder coat or liquid paint every surface except the sides and tops of the upper area (left raw for welding conductivity)
Precision Grinding: Tops are 5/16 high quality CNC laser cut steel backed by a massively rigid support system. We weld these in house to a guaranteed .035″ flatness tolerance (most areas of the table are within a fraction of that amount). For a fee of around $400 per table top (each top is 2′ x 4′), we can have them ground to within .005″ total flatness.
12 volt DC lighting system: This is just cool and makes finding things under the table way easier.
Table extensions (roughly 12″ x 12″ cubes that extend table edges): these are great for wide wheelbase builds, automotive sized work, making ergonomic welding support areas, and more.
Fixturing: The real value in this table system is fixturing. Our industry-first (and patent pending) T slot system is the fastest way to attach accessories to a table, and the easiest to repair from weld spatter or other damage. We have a myriad of accessories in development like height adjustable tube clamping systems, precision machined spacer blocks, unique hardware, and welding squares.
Complete Build List for "All Options" Tables: