Returns
Our return policy is in the FAQ page (link at the bottom of any page on our whole site). This page is meant to help you get the most credit possible for your returned goods, and allow you to submit a return form.
Return Step 1 of 2:
Call us at 503-389-5413
We will issue you an RMA (return material authorization) via e mail if we approve your return. We accept returns per our return policy. Exceptions to that policy (if made) are approved on a case-by-case basis. Returns without an RMA number AND a filled-out RMA form will result in no credit being issued.
Return Step 2 of 2:
Package Your Goods For Return.
You will need the RMA number from step 1 in the box, otherwise we will have no idea why a die set, tubing notcher, racoon, or collectible action figure with real karate-chop action showed up here. Wrapping (with plastic wrap) the RMA # to the items is the best method. Please read this whole section to make sure you package your item correctly. All packaging material can be purchased at Home Depot, the UPS store, or any other packaging store. You can also re-use packaging material from home/work.
*Do NOT apply packing tape directly to your items. If we have to remove adhesive from your return we will charge you $100/hr shop rate to do so.
Our return poilicy can be found by clicking on "FAQ" at the bottom of this page.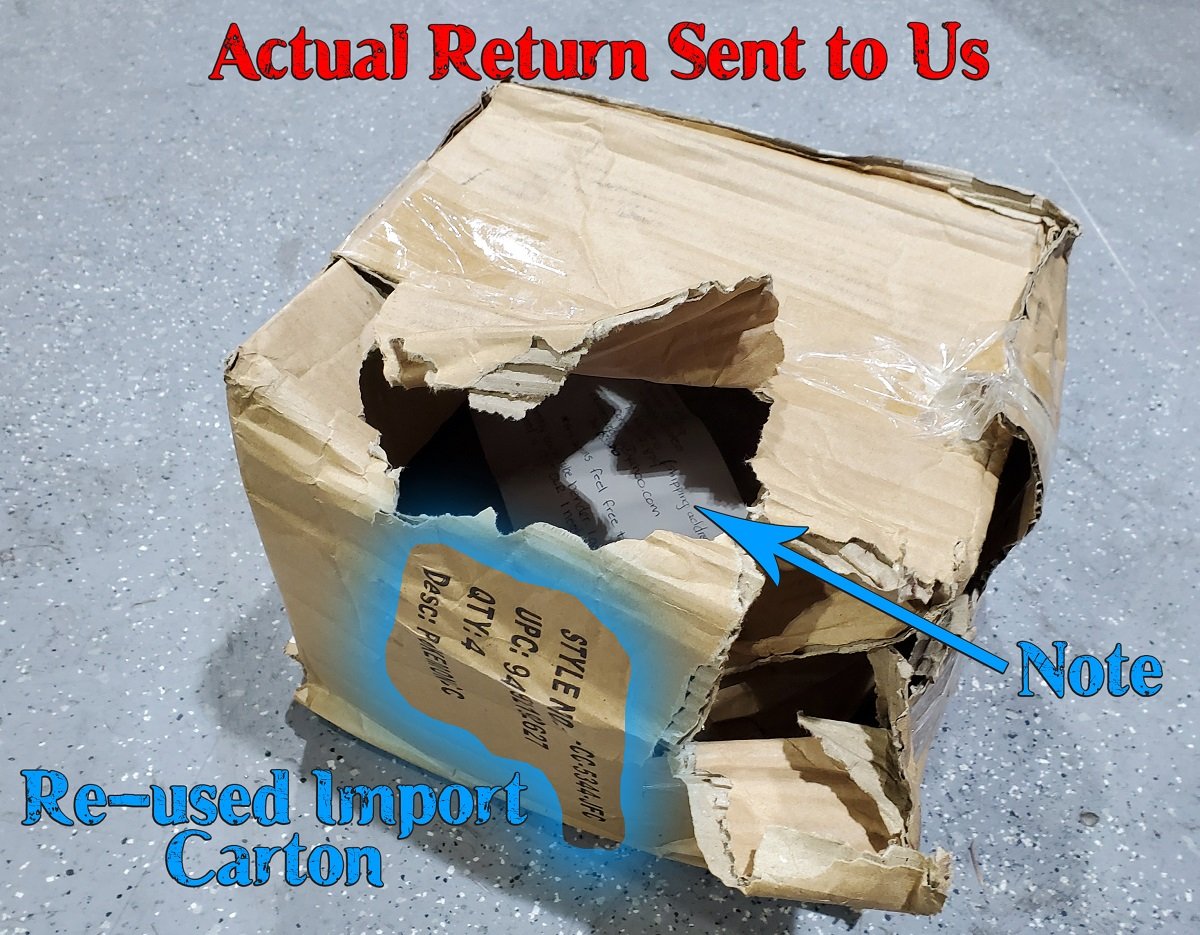 Do You Like to Roll The Dice?
This box is not packed well. It is a re-used import carton, which is not strong at all. The seams were not all taped (an "H" pattern covers all seams on regular boxes). While the product inside was wrapped in paper, it had no other edge protection, and was not secured to other items in the box (which are now missing). Void fill was likely not used. This person will not be happy with the result of their return. We can only issue credit for what shows up here in the condition it arrives in.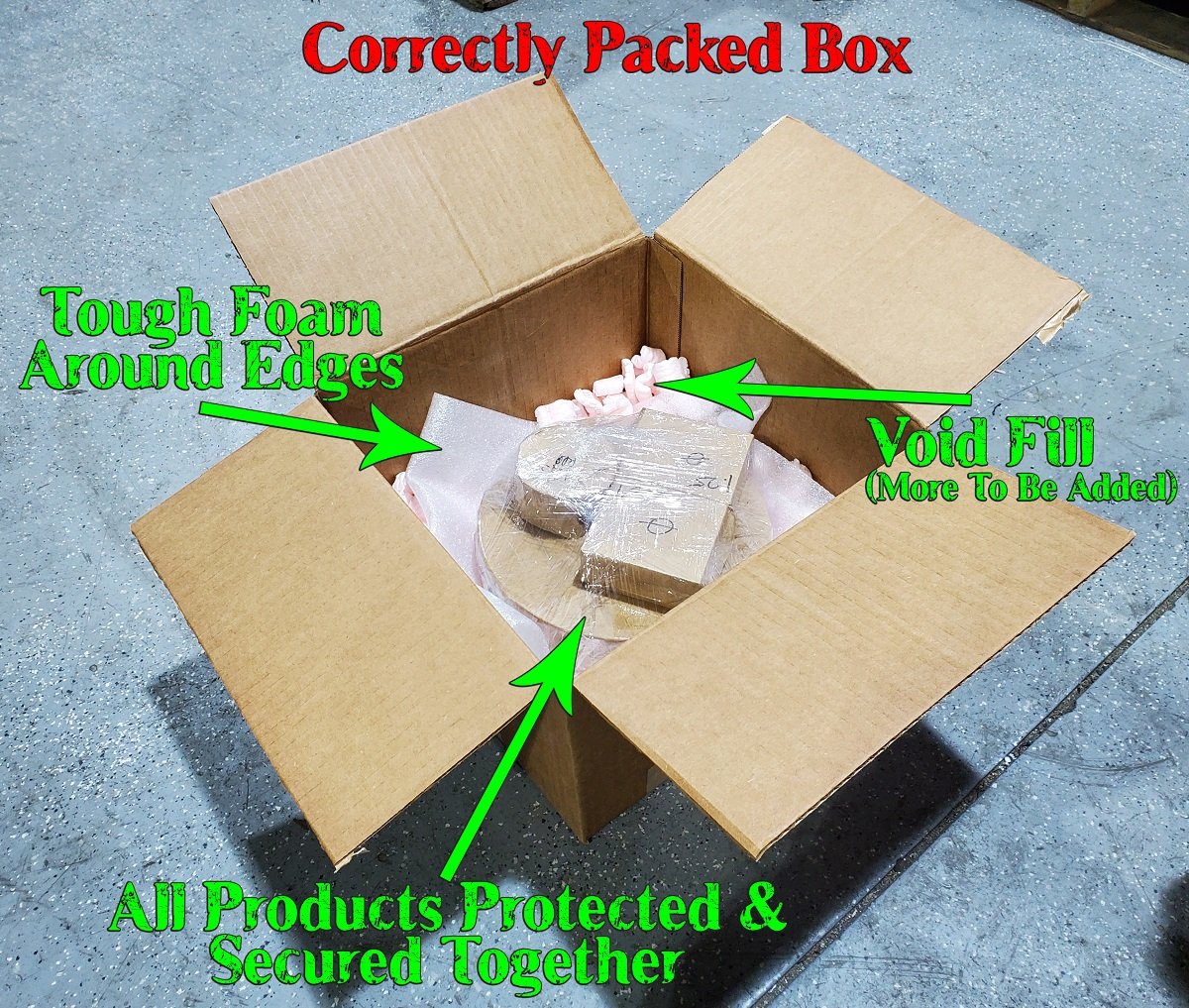 Prepare For Success
This is a stronger box (see below for ratings). It is in good condition as well. You can see the products inside are all secured together so they can't damage each other. There is also closed-cell foam around the edges, and peanuts for void fill. Paper is a great choice for void fill as well, but it must be packed TIGHT and wrapped around edges in a way that they do not move around and get exposed to damage. 95% of all die damage occurs to edges! Void fill does nearly no good at all when it is not done completely. A partially void-filled box is not ready for shipping. Void fill can include recycled materials like empty clean egg-crates, torn up cardboard boxes, etc. DO NOT USE AIR PILLOWS. They are for lightweight items like the light bulbs you ordered off Amazon last week.
Box Strength
Most boxes have this rating on them. Some custom made boxes do not. We ship almost exclusively in 51ECT double wall boxes. IF you use anything less with heavy metal tools in the box, you have to compensate for the lower box strength with better packaging inside the box. Double boxing (with void fill between the box layers if they aren't a tight fit) is a GREAT way to use weaker boxes for a heavy duty job.
Insurance
Unless you are willing to accept an apology (from a shipper) in place of your credit from us, use insurance. All carriers offer insurance, with USPS being a little less likely to pay a claim than UPS or FedEx. Insure the package for the FULL RETAIL PRICE. Insurance with UPS and FedEx are usually $1 for every $100 insured ($3 for $300 of insurance). They are likely to ask for photos of the packaging, taking photos at the time of shipment is best. If you don't package your items well, they will not pay the claim. If you package them the way we recommend on this page, they are highly likely to be packaged acceptably by any carrier.