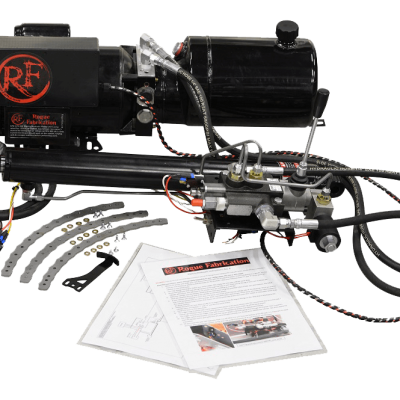 INDUSTRY LEADING 2HP FULLY ENGINEERED ELECTRIC HYDRAULIC SYSTEM BENDS OVER 90 DEGREES IN 12 SECONDS ON OUR TUBING BENDER!
ADJUSTABLE AUTO ROTATION STOP ENSURES CONSISTENT BENDS WITHIN A FRACTION OF A DEGREE, EVEN WITH DIFFERENT OPERATORS!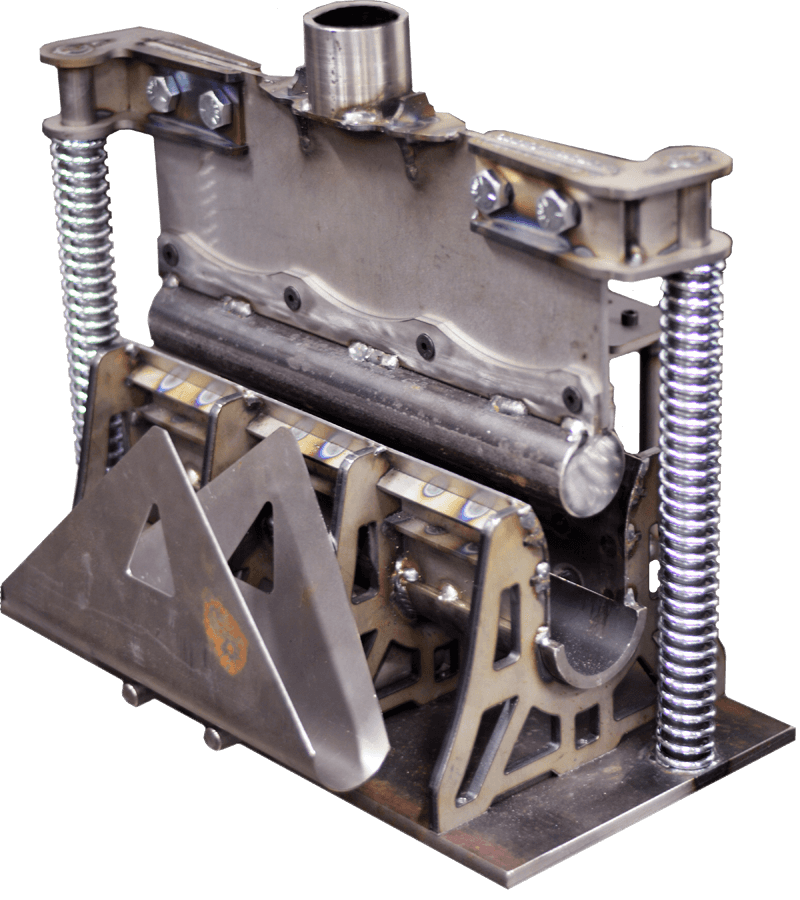 EASILY BEND 180-DEGREE "TACO" ROLL CAGE GUSSETS WITH OUR 180 DEGREE PRESS BRAKE!
FITS IN A STANDARD 20 TON SHOP PRESS, OR USE OUR SUB-$500 DIES IN YOUR EXISTING PRESS BRAKE.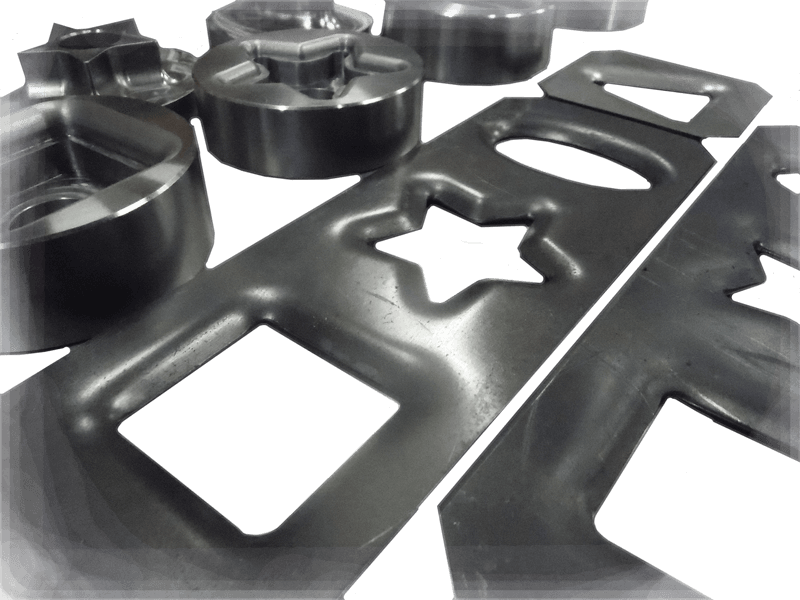 MAKE YOUR DIMPLING PLATE WORK UNIQUE AND GENERATE WORD OF MOUTH!
LET US SHIP YOU A SET TODAY AND STAND OUT FROM THE REST OF THE SHOPS IN THE WORLD
(Ask us how to slow down your drill press so you can drill into metal with it!)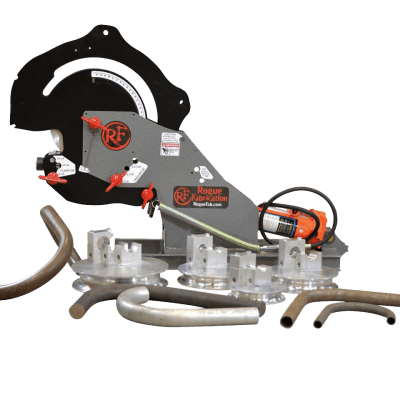 Our Tubing Bender is the BEST VALUE on the market!
Features:
• $725 as a kit with any 3.5 or 4.5 CLR (Center Line Radius) die set.
• 95 degree bends (with $65 HD kit) in ONE ram cycle (180+ degrees in 3 strokes).
• Tube bender bends vertical to save space and make it easier to use.
• Support for dies from 3.50″ CLR up to 6.00″ CLR.
• Includes the integrated base and degree wheel.
Why should you buy a Tubing Bender and Notcher from Rogue Fab?
Price and Performance!
Our machine competes in price with machines that have nowhere near this bending capacity, versatility, and technical support. While this machine machine can bend super thick DOM tubing, it also bends thin 4130 chromoly for roll cages, and can still make accurate 3D bends with ease on either material. Furthermore, it can bend carbon steel, stainless, brass, copper, and aluminum (round/square tueb and pipe). While other machine manufacturers want you to sell your machine and buy another to upgrade, we do not. Keep this machine as your needs change or as your business grows. Simply add more dies, convert to ultra-fast electric hydraulic power, add production features like backstops and rotation stops, anything you need. Furthermore, our web page can teach you everything you need to know about tubing and how to bend it accurately.
The VersaNotcher will Notch Anything!
Our tubing notcher can clamp and notch on bends, cut compound angles, and offset cuts in both directions. It adjusts easily, grips securely, and is rigid. There is no easier or safer way to notch round tube, square tube, flat bar, channel, angle iron, and more. This tube coping machine will probably become your favorite shop tool.
What Our Customers Are Saying
From Ward in Orlando FL
"I wanted to take a minute and tell you what great products you have. I bought a 1 1/2″ .120 wall DOM tubing bender with the HD kit and your VersaNotcher. They are fantastic and both very impressive.

My son works in Denver where he has got into rock crawling and loves it. "
Recently posted on a public forum (Pirate4x4) by Jimmy in Poolville, TX
"I recently purchased this bender after EXTENSIVE research. From the minute I hit send on Paypal, I could not have been happier with my purchase. I had Shipping info in less than 2 hours. The Package shipped next day and was to me here in Texas in just 2 more days. I opened the box, and inspected the product, All pieces accounted for, and in impeccable shape. No rust or damage at all (Comes bare).

The fit and finish leave nothing to be desired. It is a top notch product, from a top notch vendor. The Customer service so far has been the best I have ever worked with. Joe is quick to respond, and extremely polite and helpful. I am building Wildland Interface Fire Trucks (Duece&1/2, 5tons, etc.) ROPS & Brush protection cages. Will be posting some pics up in the next couple of weeks. If you are looking for an easy to buy, easy to assemble, and easy to use bender. Pull the Trigger, because this is it."
Scott, owner of TS Offroad in Jefferson City, MO
"The bender performed flawlessly. The bend was clean and the bender was quite a treat to use. The air/hydraulic setup was almost fun to use compared to rowing a manual bender. Put in the pipe after calculating my rough bend measurements and hit the air. At 94 degrees I reset the ram and continued bending to 125 degrees. I can't say enough how easy this is to use… Thanks again for the great product!"
Browse Our Full Shop
Tubing Benders – Tubing Notchers – Die Sets – Fabrication Tools
View our Youtube Channel!
Visit us On Facebook, follow us.