Drawings for FREE PRIZES!
Every month we do a giveaway for something here at Rogue Fabrication. Some months you have to share a social media post to enter, while other months you may have to submit a photo or a review. Every time we do a giveaway, there is one thing you can count on- you can always enter by ordering anything in our swag category (that is what we call our shirts, hats, keychains, stickers, banners, etc.). You can post comments on these right here, this is a blog.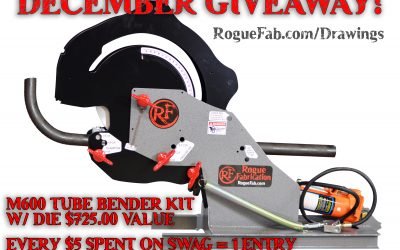 We're giving away a $725 tubing bender!!!
You can enter for FREE or easily by just buying swag from us! You have GREAT odds for winning these! This isn't like those typical social media giveaways where there are ten thousand people entering!
HOW TO ENTER:
1. Buy anything in our swag category at https://www.roguefab.com/product-category/swag/ – you will get an entry for every $5 you spend, rounded up by up to 99 cents to the nearest 5 dollar increment.
2. Comment on our facebook post with a photo of yourself in front of your project that needs a tubing bender to complete (1 entry max)
3. Post our contest photo to your instagram account and follow us on instagram (1 entry max)
You can enter an unlimited number of times. Our shirts, banners, stickers, sweatshirts, and bottle openers make great gifts. We even added a new t shirt for December 2018! And we have fitted women's shirts too!
We need your help to spread the word about our brand and our awesome tools and resources that help fabricators be successful! Please feel free to share this post! The more entries we get, the bigger prizes we will be giving away!!!
DRAWING/PRIZE DETAILS:
We will draw a winner live on Facebook at 8:00 AM PST on Tuesday, January 2nd. That person can chose any configuration of our M600 tubing bender that is priced at $725. They may instead elect to take $725 off any product in our store which contains an M600 tubing bender (so you could pay the difference to get an M600 xHD, or order an elite package with $725 off, etc). Shipping IS NOT included.
We will be doing giveaways like this EVERY month as long as you guys and gals participate! Let's get excited about it! Last month was a tube notcher, this is WAY bigger!
#GoRogue #Madeinusa #freemoney #giveaway #contest #freetools #m600 #versanotcher #printedinUSA #local #itstimetodie #musthavetools #getbent #becauseracecar #mandrelbending #benttitanium #2inchsolid #tubebender #tubingbender #tubebenders #tubingbenders #pipebender #pipebenders #welding #workhard #fabrication
Void where prohibited. No cash back given. No cash value. No purchase necessary to enter. Must be 18 years old to enter.