Drawings for FREE PRIZES!
We do drawings every month! In the last year we gave away about $30,000 worth of tools and only had 125-300 people enter per month on average. Click on the top post for the latest drawing. We frequently do two types of drawings:
Monthly Drawings: Enter by purchasing RF merchandise. Free entry methods exist in EVERY drawing. We announce the winner in a live video following the close of the entry period. Winners who are watching that live video get bonus $ in the form of gift cards, and we also frequently pick a live viewer at random for ANTOHER prize! Can you tell that we are trying to reward our superfans?!? We are! Full details below.
Feature Video Drawings: Enter by commenting on our feature videos (a feature video is a non-live video that is studio edited, such as our bending 101 video). We draw the winner in a live video. We also frequently pick a live viewer at random for ANTOHER prize! Full details in video drawing posts below.
Enter fast and easy with a merchandise order: Shop RogueFab Merchandise (Link)               Donation and educator program (Link here).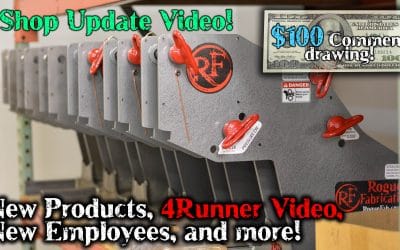 We're going to release our newest YouTube video before the end of the week… but we're not telling ANYONE when! The first 100 comments made after watching (and listening) to the video all the way to the end are entered to win a $100 gift card. We will announce the...