Drawings for FREE PRIZES!
We do drawings every month! In the last year we gave away about $15,000 worth of tools and only had 125-300 people enter per month on average. Click on the post for the latest drawing.
Enter fast and easy with a merchandise order: Shop RogueFab Merchandise (Link)               Donation and educator program (Link here).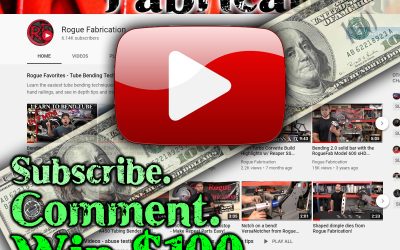 We're going to release our newest YouTube video before the end of the weekend… We're not telling ANYONE when! The first 100 comments made after watching the video all the way to the end are entered to win a $100 gift card. Just to be clear, we're drawing one winner...