Frequently Asked Questions
About Rogue Fabrication
Rogue Fabrication started as Rogue Offroad Engineering, LLC in 2010. Our first product was H1 wheel centers. The owner (Joe) graduated Magna Cum Laude at Oregon Institute of Technology with a Bachelor's of Science Degree in Mechanical Engineering and a Business Minor. Joe has been building/modifying recreational offroad vehicles and turbocharged sports cars for 15 years. He has experience from industry as a design engineer and as a manufacturing engineer. Our relentless pursuit for the highest quality, easiest to use, and most cost effective tools has put us on the map for fabricators. You can count on us for the tools that need to be in your shop to make you money.
Shipping
We ship in locally made (never imported) boxes. We use fiber reinforced paper tape with natural rubber adhesive wherever we can. This extremely strong and durable tape doesn't need to be removed from boxes when they are recycled, and it is less harmful to the environment to manufacture than any other tape.
Whenever possible, we use post consumer recycled filler material in our boxes (most commonly newspaper, it is very easy to recycle). We also use recycled peanuts, cardboard, and air bags.
We do all this to keep our forest land green and make it so our grand kids can enjoy the same trails, trees, and rivers that we do!
International Shipping Experience
Our company regularly ships products all over the world. We regularly ship to Australia, Germany, Denmark, Sweden, The Netherlands, Mexico, Canada, New Zealand, The Philippines, and Japan. We have many customers in South America too (Peru, Argentina, and Brazil to name a few). We can of course ship anywhere, and we have the experience to get your products to you on time, and for the right price.
Speed
We ship all international airmail and air freight with electronic invoices and customs forms. That means all the paperwork gets to your country days before your package arrives in customs. Now your customs has had time to research the shipment and contents, and knows everything they need to about the package. It follows a faster route through customs and you get your tools earlier without paying a cent for expedited shipping.
Freight
We have the best rates in the industry for ground freight. Please contact us for freight rates. We can ship international freight too, including partial containers.
Long Distance
We have experience shipping all around the world, and we can ship a Tubing Bender to your door in Australia for under $600 in most cases.
Rogue Fabrication 4Runner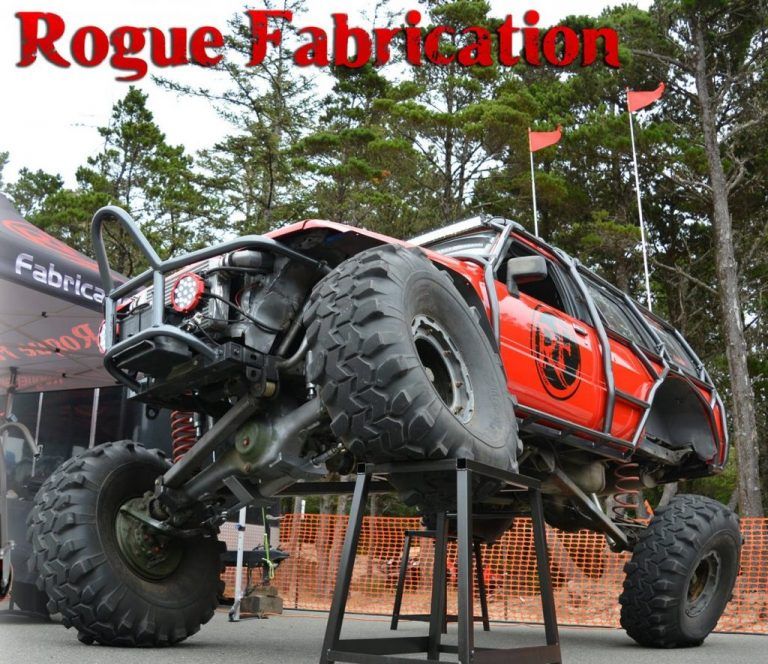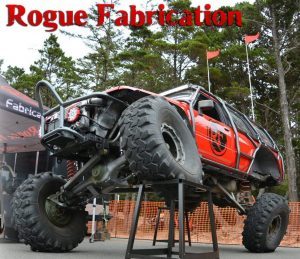 This is the Rogue Fabrication 4Runner. It is meant to be a demonstration of what our tools can do (see how close fitting everything is?) Here are some specs:
*1988 Toyota 4Runner
*1989 Toyota Supra 7MGTE turbo I-6
*R154/R150 hybrid transmission
*Dual transfer cases
*Unimog 404 axles, stock lockers and 7.56:1 gears
*Rogue Fabrication recentered H1 beadlocks with 42" TSLs
Where are your products made?
We take this very seriously. ~98% of what we we sell is made and assembled here in the United states. All of our dies are machined here from US-made Kaiser aluminum (Kaiser has 11 US plants and 1 in Canada). All of our laser cut steel is cut here. Our hitch pins are made entirely in the US. We even buy cardboard boxes that are cut and formed in the US from corrugated board stock that is actually manufactured and tested here in the US! The only parts we currently import are ball bearings and cap screws (and Gildan sews our T shirts in Central America, though they're printed here in the US). When you buy from Rogue Fabrication, you are supporting American jobs and contributing to this great country's GDP. All of our products are made by fairly paid employees in a safe licensed work environment in Sandy, Oregon.
Is this a mandrel bender?
This is a rotary draw tubing bender, like those made by our competitors. It also accepts our mandrel attachment, which makes it a mandrel bender. The next nearest priced mandrel bender with bronze mandrels (like ours and other high performance machines have) and through-mandrel lubrication (like ours has) is $46,000 without any dies or mandrel tooling as of 2020 when this was written. So our mandrel bender is the most affordable in the world, and by about 1,200%.
What Machine Revision/Vintage do I have?
We have made revisions to the M600 bender over the years. There are 3 major revisions, and the machine grew significantly with each revision. It is impractical to "upgrade" from any major revision to any newer major revision.
This is the current machine as of 2020. Exact vintage/revision features are circled. We recently added a rear mount for the Mandrel 2.0 (orange text/circle). This is not an alignment-critical feature and can be easily drilled into any machine that will accept a mandel. The 2017 change (light blue) allows the current electric/hydraulic auto-stop to be used. Older machines require drilling 2 small holes, which we can provide a template for. The 2016 mount hole addition (purple) requires simple cutting and welding on 2 tabs (which we sell) to add these features. No challenge for a fabricator. At the beginning of 2016 we changed the bend wheels to have 3 clamp locations (3.5/4.5/6.0 CLR) instead of 2 (3.5 & 4.5 used to be combined). This allowed 90 degree one shot bends on 3.5 CLR, a slight improvement.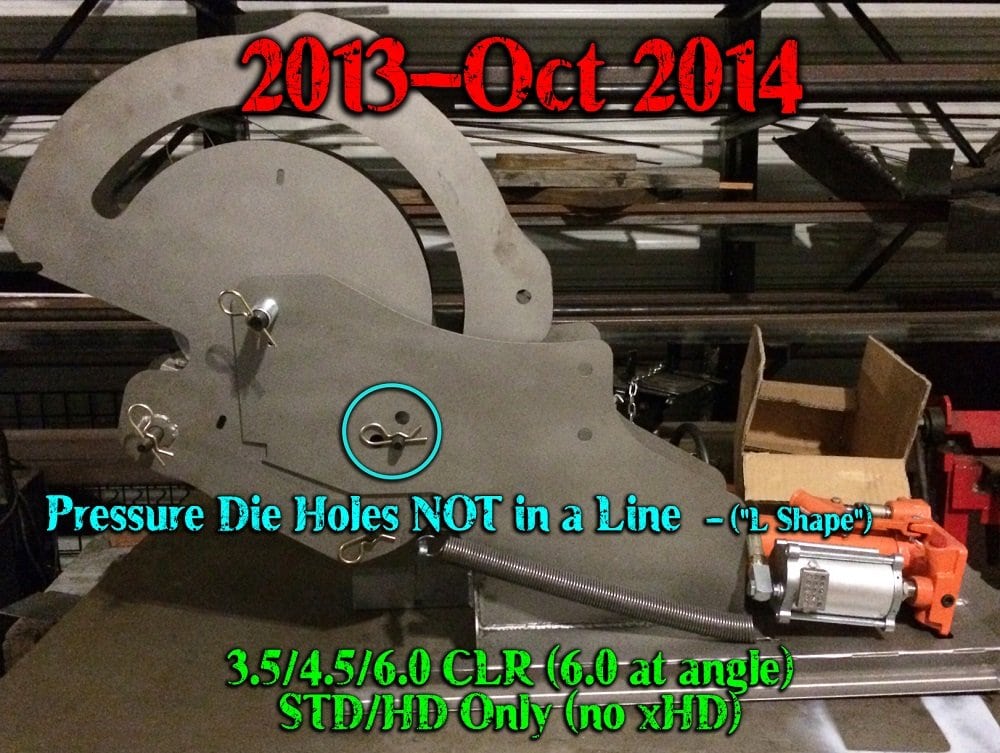 There are many of this machine out there. This was before the xHD capacity was offered. This machine is smaller than the current machine, which requires the 6.0 CLR dies to be used with the clamp blocks inverted and the tubing in the machine at an incline. These machines are not compatible with mandrel attachments or backstop assemblies. They will not bend 90 degrees in one shot like current machines can (when equipped HD/xHD). They work with all of our current dies. They are roller pressure die compatible.
This bender was originally released under the model name "Alpha". This machine was 4.5 CLR only, although it will make bends on smaller dies at an incline. It will work with roller pressure dies. No 1 shot 90 degree bends (repin required). No mandrel/backstop.
Why don't you make more die sizes?
We started off with the die sizes we thought would be most popular, and we continue to add to that list. If you would like to buy our bender and need a specific die set for ROUND or SQUARE tube, let us know and we will probably start carrying them. Please keep in mind that we will not ever make dies for square tube over 1.5″ and round tube over 2″ (we already have a 2″ tube die and a 1.5″ square die).
Will your tubing bender bend 1.75x.120 tube? (or some other size)
Every die set we have is rated for a minimum and maximum wall thickness of tube. This information is listed under "tech", in the wall thickness capacity chart.
What new products are you currently working on?
We are developing other products and tools for your shop, but we can't talk about them just yet. Check back soon for updates. If you want to see a product made, or simply made better/cheaper, send us an E mail and let us know what you want to see on the market. We might let you beta test it if we end up using your idea (we're already working on a roller).
Can I learn how to bend tube on this machine?
We have many customers that have never bent a tube before who learn on our machine. It is very easy, and we welcome questions.
Can I use your bender to build ______?
The Rogue Model 600 Metal Tubing Bender can make just about any structure from bent tube. We have customers making race car frames, 4×4 cages, bumpers, sliders, motorcycles, choppers, bicycles, air compressor frames, raft frames, ornamental projects, kinetic sculptures, spec rally/SCCA/NHRA/SCORE legal roll cages, etc. Our bender is great for making multi-plane bends too. The only thing our bender doesn't do is tubing larger than 2″, and you can't have two bends with less than a few inches of straight tube in between them, excluding S bends and repeated bends inline. Our M600 can be configured to bend pipe, DOM tube, HREW tube, copper (hard and soft), titanium, inconel, Sandvik 2507 Duplex Stainless, architectural stainless, sanitary stainless, and Chromoly (as well as Docol R8).
Where are you located?
Our shop located at 42335 SE Marmot Rd, Sandy, Oregon 97055. Please call 503-389-5413 to make an appointment. We're open from M-F only, 7am to 4:00 pm.
The tube looks flattened/collapsed. Is it?
We had a few customers ask us about tube collapse on our tighter CLR dies, and it prompted us to make an entire section on bend quality. You will find it under our "tech" menu at the top of any page on our site.
What is CLR? Your web page throws that around a lot.
CLR = Center line radius. It is the size of the bend. See the "Tech" page for in depth coverage of this term and how it is measured.
Do you sell 180 degree dies?
Every single die we sell bends over 180 degrees!
I want to bend roll cages and exhaust systems with one bender. Can I use yours for both?
It depends on the exhuast work you want to do. There is no better machine than ours for roll cage work (unless you need the production speed of a $150k+ CNC machine). For some exhuats work (like parts for car/truck engine headers, motorcycle exhaust, etc), our mandrel can allow it to be done. If you want to bend anything over 2″ diameter, our machine isn't the right choice. Please see the tech section of our web page for more information on bender types and their price ranges in the current market.
Privacy Policy
Our Privacy policy is simple. Our system collects the same information that most companies collect. We will have your name, billing address, shipping address, phone number, and e mail address on file. We will use your name and e mail address for marketing e mails once a month or less, and we will use the rest of your information only for future orders. We don't share, sell, or trade ANY of this information with any companies not directly related to your order. Nobody else will be e mailing you unless you requested financing information, and then it will be ONE bank, not 16.
Does it come with the ram?
Our bender doesn't ship with a ram by default, because they are so heavy, and beacuse we have several options for hydraulics. For more information on the hydraulics (inluding part numbers and alternative places where they are sold), go to the tubing bender category in our store and read the descriptions for our various hydraulics options. 
Do you ship to Australia? Or _____________? How much is it?
We ship everywhere. We can ship via sea freight or FedEx or DHL. Even USPS international in some cases. E-mail us for a quote.
Will you take payments or lease your products?
You can do paypal financing right on our cart, or do financing from the tab at the top of any page (it says "financing").
Why do you use aluminum dies? Aren't they weak
You are wise for questioning the use of aluminum on dies. The only die that wears is the pressure die (the one that the tube actually slides through). Other manufacturers have aluminum inserts here to prevent tube damage, so their dies will wear like ours. We haven't had a customer wear one out yet, I would expect them to do at least a few hundred bends before they have enough material loss to warrant replacement. And they are less than $20 to replace. We also guarantee our dies for life against damage. If we can bend solid 1.75 bar on them, you can bend .120 wall for the rest of your life on them.
When we designed dies for the Model 600, we started with a design that didn't use weldments, and also didn't have any members in significant bending stress. Typical tubing bender manufacturers weld a block onto a round die, and the tube gets clamped to the block with a bolt. There is a weakness in the design of those dies due to the tremendous stress in the area where the block meets the round die, and from the heat affected zone from welding being in that same place. Since our dies have the clamping portion separated from the rotary/main die, all that stress is transmitted to the steel frame through heat treated steel pins.
Aluminum dies also have much better properties to resist galling on steel tube than steel dies do.
We haven't had a die failure yet, and if you ever crack a die you bought from us, give us a call and we will gladly replace the die for you.
We mentioned that other die designs use a bolt to secure tube into the machine. Our clamp contacts the tube with 100% CNC machined aluminum that matches the profile of the tube, which means no more scratches and gouges in the tube you bend!
What part needs welding?
The entire base is weld together. We have asked some of our customers how long it took them, and the most common response is 2 hours (best is 45 min, longest is 5 or so with TIG welding). The frame rails, base plate, lower support, ram mount, and uprights get welded together. It is VERY easy to put together with our detailed full color instructions.
I see the tube is clamped on one end, how does the tube held on the back of the bend?
There is a "half moon" pressure die in the back, made from 6061 aluminum. Most of the "big brands" use aluminum blocks in their pressure dies, it prevents galling and scratching of the tube. They wear like brake pads. Expect to replace them after you make about 50 roll cages. We haven't worn our first one out yet. We will warranty replace these if they wear out too fast for your liking. We stand behind our products.
Why doesn't anyone else make a bender like this? Where else can I get dies?
This bender design was developed by Rogue Fabrication, LLC, and it is proprietary. We aggressively protect our intellectual property to prevent rip-offs and knock offs. That is why it looks unique, and also why you can't get the dies anywhere else. There are a few other benders out there that use wheels instead of arms like the manual benders, but they are typically industrial grade units with prices 2-3x ours or more.
Do you offer a military or school discount?
We do offer a military discount for current active duty and war veterans only. We don't have enough profit to "slash prices" significantly to say thank you, but we can take a few bucks off. We thought this was way better than nothing, and it shows that we appreciate the risk and sacrifice our military personnel demonstrate for our great country. Discount applies to $500+ orders and excludes sale items.
We offer discounts to schools who will be incorporating our tools into their per-term curriculum. The discount is 15% off of retial (NOT sale) prices. Contact us for bulk rates.
Is my Air/Hydraulic ram defective? How do I fill it with oil?
Central Hydraulics (Harbor Freight) does not fill these rams to the same oil level consistently. If they run low on oil, the pump will pick up air, and it will reduce the travel. To fix the issue, top off the oil and bleed the air out of the system: 1. Stand the ram upright, with the rod compressed all the way down. Pull the little rubber plug out. 2. Fill with oil until it is at the same level as the fill port. Replace the plug. 3. Extend the ram all the way out with the air pump and then compress it all the way down to bleed any air out of the system into the reservoir where it belongs. Step 3 must be done with the hydraulic valve on the unit turned to the right (tight, closed). Repeat step 3 as needed until you do not hear any more air bleeding out. If you still have trouble, you may overfill the reservoir 1 oz at a time up to an absolute maximum of 4 oz total. Overfilling the reservoir increases the risk of causing the reservoir to become pressurized, which is not a risk to ignore. Do not add more than 4 oz past the factory fill level.
Can I use my own shipping?
We will not pay any 3rd party shipping company on your behalf. If you want to select "will call", your order can be picked up by your carrier. You will schedule your carrier and pickup within our regular business hours. Shipping liability from our door is the customer's responsability. We reserve the right to refuse to allow this on any order at any time. We also charge $40 USD per pallet that we have to pack (to cover pallet cost, packing material, and other costs that would normally be built into shipping costs on large pallet orders). 
WARRANTY
Nearly all of our products have a lifetime warranty to the original purchaser. We guarantee that our benders will work as we describe, and our other tools will do the tasks they are designed and marketed to do (when assembled per the instructions if applicable) for the life of the product. This includes any damage from appropriate use of frames, hardware, DIES (yes, lifetime warranty on dies when bending appropriate material), and other accessorial products. This warranty has the following exclusions – normal wear from use on products that have not failed under unreasonably short use (determinations made by Rogue Fab), arborless notcher shafts, arbors, products not designed or manufactured by Rogue Fabrication that carry a separate warranty from the manufacturer, all other electronics have a 1 year limited warranty, unless otherwise described in documentation or product listings.
RETURN POLICY
All items not in our Swag category (like tools, 50 US States only):
We accept returns within your First 30 days of ownership for unused merchandise only. Returns of most (see below for exceptions) items that have been shipped to the customer except those in our swag category are subject to a 20% restocking fee and the buyer pays the return shipping (we almost always e-mail you a FedEx or USPS label so you can use our discounted rates and for tracking/liability reasons).
Exceptions to regular restocking items are any package/purchase over $3,000. These large packages are very labor intensive and time consuming to assemble, and often include machine-to order and custom configured irreversible customization that would be very costly or downright impossible to change. All packages/transactions over $3,000 are subject to restocking fees if cancelled at any point after they are paid for (either in full or with a partial/deposit payment).
Items in our Swag category (mostly clothing, 50 US States only):
SWAG items are NOT RETURNABLE. We are happy to exchange them for another size if the fit is not what you expected. For exchanges, there is no restocking fee, you just pay shipping both ways. Items in our swag category are subject to a 50% cancelled order fee (to combat fraud, applies to product only, not shipping). Cancellations attempted to be made after a monthly product drawing will not be able to be cancelled unless you specified in writing at the time of your order that your purchase was to be excluded from our monthly drawings. This policy is to be fair to our paying customers who are entering into drawings legitimately. If any of our sales or management staff suspects a customer of trying to defraud Rogue Fabrication pertaining to our monthly giveaways, you will no longer be entered into the giveaways when you purchase swag from us.
All Items/Orders:
Local Pickup orders are subject to restocking the moment they are completed (ready for pickup) if cancelled. Our labor and material investment occurs at time of order completion, just like a shipping order.
Customized products cannot be cancelled on an order and cannot be returned under any circumstances.
All orders shipped outside the 50 US States:
All orders shipped to a final location other than the 50 US states (meaning shipped to a US territory, international country, or other destination) are final once they leave our facility. This includes orders that are shipped to forwarders within the US (example: Rogue Fab ships to Florida, where the package is loaded on a boat and taken to Panama via a forwarder on a customer account). We stand behind our product and warranty and honor our commitment to your tools doing what we say they will. We will work with you to make certain that everything you buy from us performs as designed. That being said, the returns process is immensely expensive across borders. The refunding of brokerage and tax to customers has proven difficult (or impossible) in recent years, and avoiding import tax being due to Rogue Fab for the returned goods is also a variable out of our control. Banks have also adopted policies to victimize consumers in refunds that take place with currenty exchange, claiming variation in exchange rate as an excuse for skimming money off transactions (up to 20% in our 2023 experience). We have also seen shipping cost a customer up to 2 or 3 times what was paid for original order delivery in order to return goods. For these reasons, please contact us if you have concerns after your purchase so we can help, but please understand that we will not accept returns. 
LEGAL DISCLAIMER
You are entering a legally binding agreement when you purchase products from Rogue Fabrication, LLC. Upon purchase, you are waiving your right to sue Rogue Fabrication, LLC, or its subsidiaries or officers for any possible loss or damage from the use of our products. This waiver also applies to any travel expenses or legal costs such as court fees or attorney's fees. You are also releasing Rogue Fabrication, LLC, its subsidiaries, and it's officers from any any all liability for the products you use. This agreement is transferred with the products to future owners and it is the customer's responsibility to communicate this agreement to the new owner in the event of a transfer in ownership. Rogue Fabrication reserves the right to refuse any order they see as suspicious or which violates any internal policy such as our intellectual property export policy. This section is in ADDITION TO our complete Terms Of Service, which is available via the link at the bottom of our web page.
SHIPPING METHODS LIABILITY
Rogue Fabrication, LLC (hereafter referred to as "Rogue", ships orders to their customers (defined as the party or parties who specify the goods they are being sent or picking up and/or pay for or provide details for shipping of, hereafter referred to as "Customer") by methods that include ground or express (air) package services (including, but not limited to: UPS, FedEx, DHL, Various couriers). When a Customer selects a service without a signature, the Customer are accepting liability for theft or other loss as soon as the final delivery scan or other record is made by delivery personnel. If the Customer requests a signature required delivery service, they are liable for the delivery as soon as it is signed for. The Customer is also hereby notified that the shipping carrier is obligated to obtain a signature from any person present at the delivery address. Shipping carriers are not identity recognition or employment verification agents, and they cannot be expected to know if a person belongs at the delivery address or not.
Rogue also ships with LTL and FTL pallet freight carriers, including, but not limited to: FedEx Freight, UPS Freight, R&L Carriers, Oak Harbor, and others. Some of these carriers offer signature services and special delivery options (such as specific delivery hours, indoor delivery, phone notice, etc.). These options MUST be requested for quote and ordered at least 2 full business days proir to the shipment leaving the point of origin (Rogue), and will be the full financial responsibility of the Customer. Rogue takes no responsibility for, and offers no guarantee for, any additional services offered by shipping companies. These services are offered by the shipping company to the Customer. Any issues arising from delivery methods and schedules that are within commercially practicable LTL and FTL delivery practices are to be settled by the Customer and FTL or LTL carrier. Rogue will not be an intermediary, representative, or witness for such disputes. the Customer is liable for the shipment as soon as the carrier sets the pallet/load/product on the physical property of the Customer. This includes ground, loading docks, Customer owned or leased forklifts or pallet jacks or other handling equipment, etc. In the case of FTL and LTL shipments, damage must be noted on the delivery record by the driver. It is the sole responsibility of the Customer to inspect deliveries and enforce proper notation by any delivery personnel.
If an LTL or FTL carrier charges accessorial fees including, but not limited to residential delivery, remote access, or lift gate service, those fees will be charged to the Customer. If there is a dispute in these charges, the Customer will have the right to request a refund from the LTL or FTL carrier.