Bending Wall Thickness Capacity Chart
Please see the below chart for definitions and important notes. We are committed to have the most complete and accurate information available for bending tube and material selection possible. This is just another way Rogue Fabrication is making your fab shop run smoother. This listing is based on our results, tested in our shop on material that we purchased. Bending metal is a science, and due to the impracticality of testing every heat of every alloy of material produced by every mill in the world, we cannot guarantee these results. If you want to know exactly what to expect on material you have access to, we offer bending diagnostic service for present and future customers (service offered in our products part of our store). If your machine is not performing to the capacity listed here, give us a call and we will help you diagnose it, it is more than likely a setup, material, or lubrication issue that we can easily help you diagnose and correct.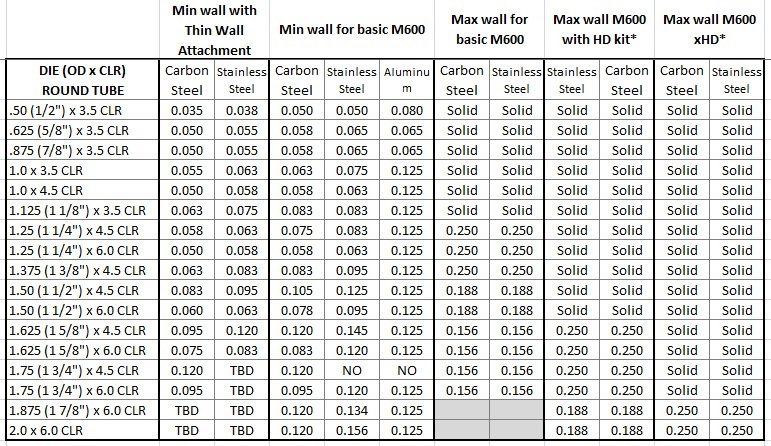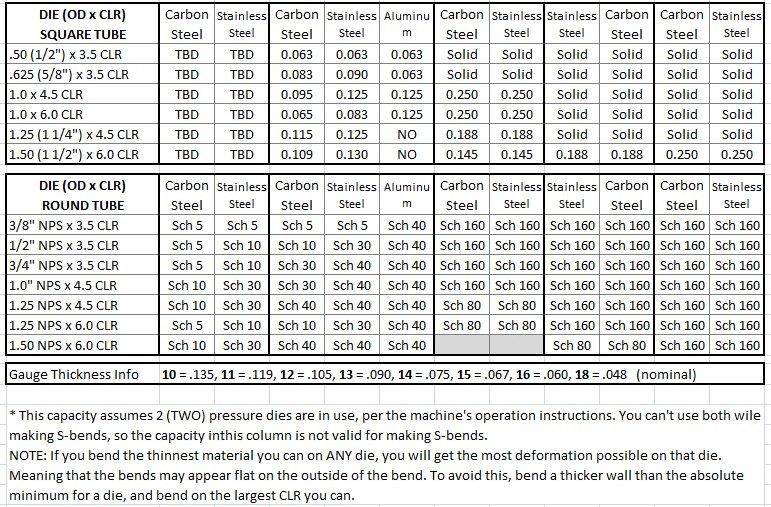 * HD/xHD- This capacity assumes 2 (TWO) pressure dies are in use, per the machine's operation instructions. You can't use both wile making S-bends, so the capacity inthis column is not valid for making S-bends.
NOTE: If you bend the thinnest material you can on ANY die, you will get the most deformation possible on that die. Meaning that the bends may appear flat on the outside of the bend. To avoid this, bend a thicker wall than the absolute minimum for a die, and bend on the largest CLR you can.
Definitions / Notes
OD
Outside diameter
CLR
Center line radius. See M600 Bender Tech for more info.
Aluminum
We test primarily 6061-T6 because if that will bend, most other aluminum alloys will bend fine.
Carbon Steel
We test 1020 DOM and 4130N DOM primarily. We have found that good quality HREW bends the same, but there are many more alloys/grades of HREW, so it can be a source of inconsistency.
Stainless
We only test low carbon 304, 304L.
M600 Basic
Standard Model 600 bender, no TWA (thin wall attachment).
M600 W/HD Kit
Model 600 HD, or a Standard M600 with HD kit ($65) added, and 2 pressure dies. See "HD Kit" in the dies section for more information.
M600 xHD
Xtreme heavy duty Model 600 (thicker frame and pins).
Thin Wall Attachment
Drop in subframe that allows ultra fine tuning of bend characteristics. As of 10-5-2016 this option is not yet for sale on our web page. Call us to get on the waiting list. This IS 100% compatible with all current M600 machines.
NPS
Nominal Pipe Size – for more info on pipe and tube, see M600 Bender Tech.
Sch
Pipe schedule. This is how pipe thickness is specified. Search online and you will find a pipe schedule with decimal thicknesses listed.
TBD
To Be Determined. As a small company that is rapidly expanding our product offerings and innovating in affordable metalworking technology, we frequently offer products before we have the chance to find their limit in all material sizes. That is the case where you see "TBD" on a die listing.
Notes – Bending the absolute minimum that is listed in the table above will produce the highest amount of deformation possible on any given die. Going up even one thickness (like from .095 to .120, or .083 to .095) will typically improve bend quality significantly. We ALWAYS recommend you buy your material from a reputable supplier with material certifications and buy a small amount to test before you order a truckload. If you shop around until you find a better deal than anyone else can get, you are probably buying junk material. Don't commit to 100 sticks before you test it in a tubing bender! Also, if you want to be 100% certain that your exact material will bend nicely on a die, we are happy to test it for you before you purchase, just contact us. Our Thin Wall Attachment reduces deformation and will typically produce better bends at minimum listed wall thicknesses.
Hydraulics systems – We offer 2 hydraulics systems for our machine. The air/hydraulic system covers the entire chart above. The electric/hydraulic system maxes out at 1.5 x .156 wall square tube or 1.75 x .188 round tube, or 2.00 x .120 round tube. This is because the power of the electric/hydraulic system is biased more toward speed than outright tonnage.
Have questions not covered in ANY of our tech articles or FAQ?! E mail us or call. We will answer them and publish the popular ones.