Its our Biggest, Longest, and Craziest Black Friday Sale ever!
Now is the perfect time to pickup a bender, die sets, notchers, and MORE!
Starting on Friday at 12:00 AM we will be having the following discounts you can apply to your order!
5% off all orders $2,000+
8% off all orders $5,000+
10% off all orders $10,000+
Spend $500+ on dies or die accessories get 10% off the order!
30% off M601/605 Bender Upgrade Packages
50% off ALL metal logos and backers! These are SWAG entry items!
7% off all notcher & accessories
The first +/- 30 tubing benders sold will get a FREE VINYL WRAP added to their order! This won't show up in the shopping cart, we will just throw them in. If your bender is powder coated, we will even install it for you. We will chose the design of the wrap. You can request a specific one and we may honor your request. If you do make a request, put it in your order comments. You can also include a "reason" why you deserve your choice, and that may or may not be honest. Maybe you saved a bus full of nuns from a train crash. We won't ask any questions.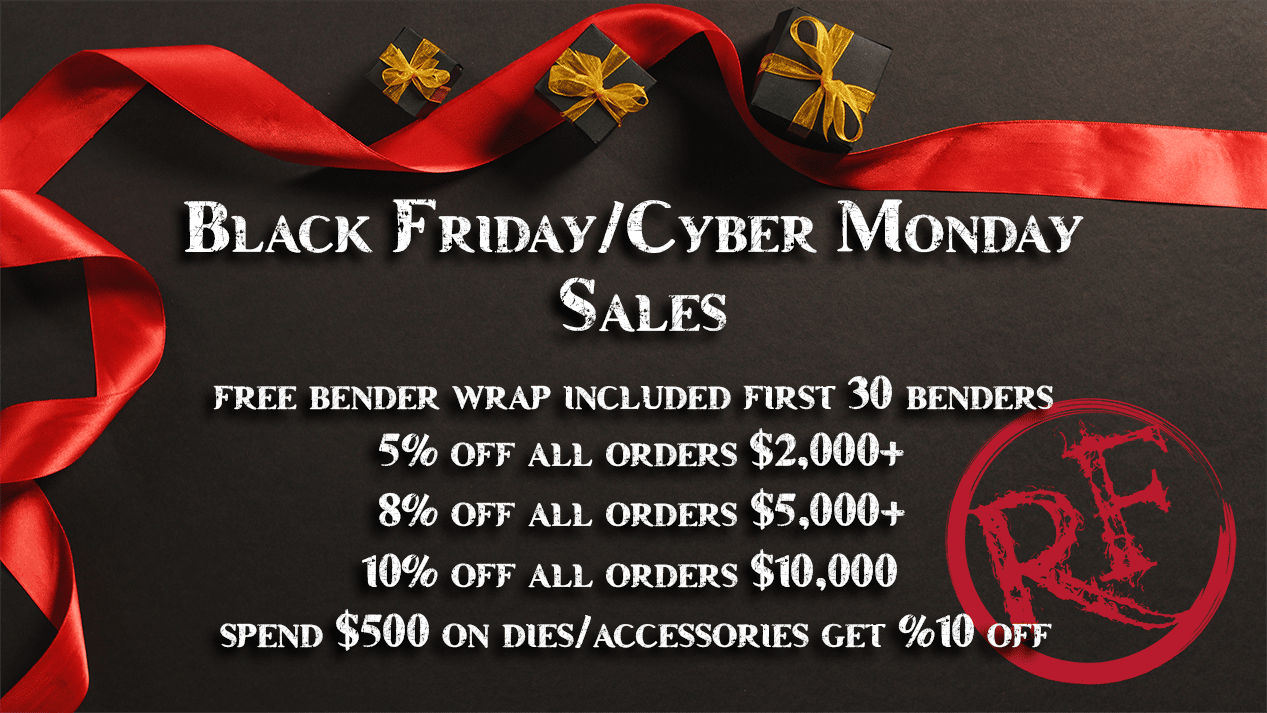 Kickoff Party!
Starting at 10AM Friday we will be going live on YouTube HERE!
Be sure to join in as we will be answering all the fabrication questions and picking select orders that are placed while we are live to win exclusive extras!
You wont want to miss everything in store this Black Friday!
**NOTES**
Coupon codes are not stackable. The best way to take advantage of this sale is by placing multiple orders if you want to use more than one code!
Black friday/Cyber mondey applies to orders placed online only. Local pickup is allowed.
We reserve the right to cancel any order for any reason. If we suspect some type of foul play (scams, infringement, abuse, exploitation, etc), we can cancel and refund your order.
Our full terms and conditions apply. We have terms of use, sale, end user agreements, and privacy policies here at RogueFab.com that apply!