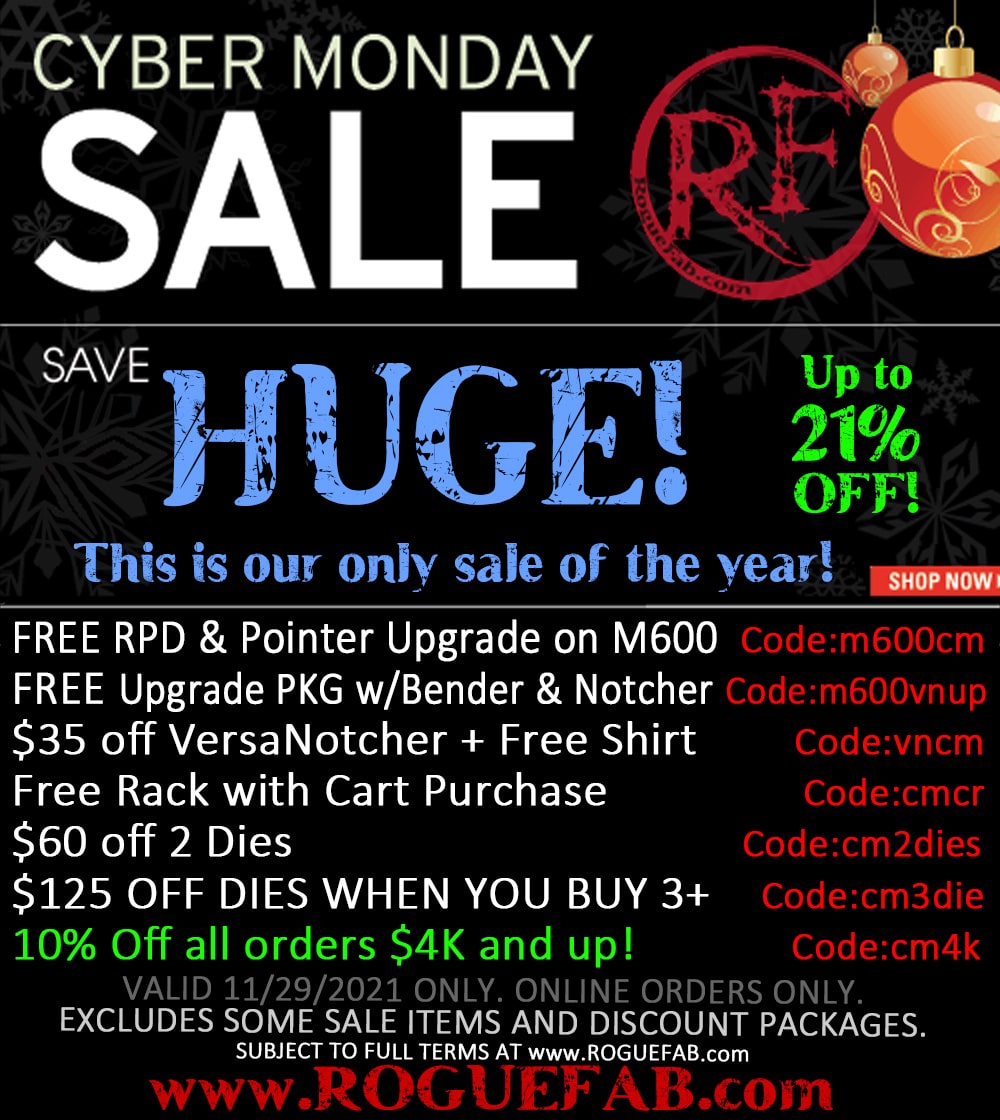 It's that time of year! Cyber Monday 2021 is coming!
Here is how the codes work. You get to use ONE PER ORDER. You can make as many orders as you want. The most money off possible is on dies (choose the least expensive dies and this works out to 21% off). Codes are NOT case sensitive. They will also only work after midnight (pacific time in the US) on Cyber Monday, 11/29/2021.
CODES:
m600cm – This will get you a FREE roller pressure die and degree pointer for your bender order. To satisfy coupon requirements, you MUST add a bender to your cart, choose the roller pressure die option ($35+), and also buy an upgraded degree indicator ($34). This will take off $69.
m600vnup – This will get you a free upgrades package ($131) when you buy any M600 series (601/605/625) bender, a VersaNotcher (including the pro kit), and the upgrades pacakge (https://www.roguefab.com/product/bender-upgrades-package/). This coupon takes $131 off your cart total when you have at least these 3 things in your cart.
vncm – Buy a VersaNotcher and get $35 off and a free shirt (you *MUST* add the shirt to your cart). This takes off $24. 2X+ sizes cost a few bucks more, we can't program it to work that way. This coupon code will take off $59 (some for the notcher and some for the shirt… get it?).
cmcr – Buy ANY one of our M600 line bender carts (like the tradesman or elite) and get a FREE rack with the purchase ($99 max value). This one is easy, here are the scenarios:
You buy a weld together cart kit of any type – we throw in a weld together hanging die rack
You buy a powder coated cart kit of any type – we throw in a powder coated hanging die rack
You buy any cart (weld together or powder coated) of any type AND another rack/accessory (like beast rack, pedestal mount, etc)- we take $99 off your order, PROCESSED AS A REFUND. This will happen within 2 business days.
cm2dies – Buy any 2 bending dies for the M600 series bender and get $60 off!
cm3die – Buy any 3 (or more) bending dies for the M600 series bender and get $125 off!
cm4k – Make your own package! Or get the best deal ever offered on our ELITE packages, Ultra Motorsport packages, or roll cage dream packages! As soon as your cart total hits $4k this coupon can be applied. This 10% is OFF OF REGULAR PRICES. Not our old sale prices (which were NEVER as high as 10% off anyway!).
Shipping is charged on every order unless you will actually be here to pick it up in person. If you hire someone to pick up your order, sales tax will apply to your final destination state (government rules. not ours)
Note: Every order is subject to cancellation if we determine any kind of foul play (like hacking/exploitation) is likely.
Dimple dies on sale! All of our dimple dies are $20.00 off during Cyber Monday.
RogueFab Metal Logo Sale! All of our customized metal logos and accent plates are all on sale.