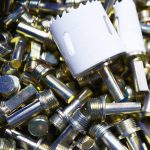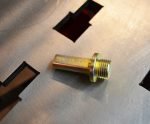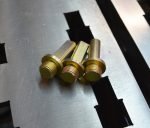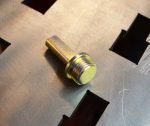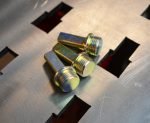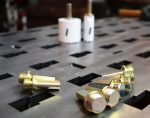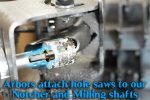 The best arbor for the best notcher. These are CNC machined in a single operation from domestically produced pure 4140 chromoly steel for an ultra-precise fit, and then heat treated for strength. After heat treatment, these parts are carefully dry honed and then yellow zinc plated. All these processes are done right here in Oregon with pride. The end result is an extremely tough, environmentally resilient, precise fitting arbor that is quick and easy to change.
5/8"-18 threads (standard on 1.25" and larger hole saws) or 1/2"-20 (standard on 1 1/8" and smaller saws).
*Self-align in our stainless VersaNotcher shafts, reducing chatter and hole saw wobble!
*Maximum space/rigidity: saw starts .100" from shaft end.
*Shop around, you won't find a better price on hole saw arbors.
*Like you would expect from Rogue, made in the USA from domestic 4140 chromoly, and heat treated & plated here in the USA.
We recommend you get an arbor for every size of hole saw you use to save time. If you're on a budget, just grab one spare arbor when you buy your VersaNotcher. If you get in a real bind while cutting, you will break teeth on the hole saw or bend an arbor. Our VersaNotcher instructions tell you how to finesse cutting to avoid this.
These are not designed to fit other notchers or drill chucks.