Description
This product is protected by US Patent No. 11529663 and No. 11478838
The M605 (heavy Duty) Mandrel Tubing Bender from Rogue Fabrication comes with everything you need to mandrel bend tube. We offer a range of options for the M605 and sell mandrel tube benders and mandrel pipe bender attachments independently. This listing shows four possible combinations of machine, mandrel attachment, die, hydraulics, and mandrel. There are many possible combinations not shown here, like using the M625 or having electric/hydraulic power. Those options can be set by adding all the items to your cart instead of using this all-inclusive package.
Choose an option above from the drop down menu. The descriptions are below. These are 100% customizable to meet your specific needs. We can change these around for size, options, capacity, etc.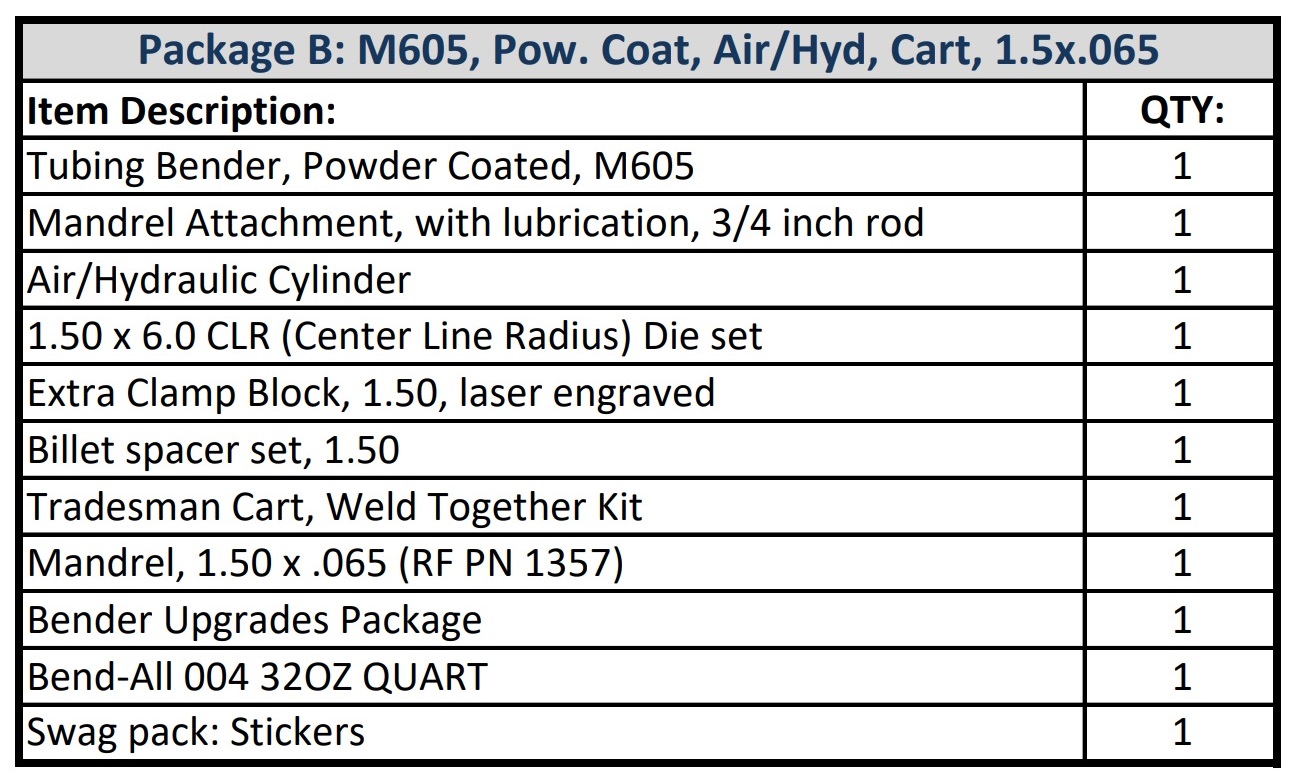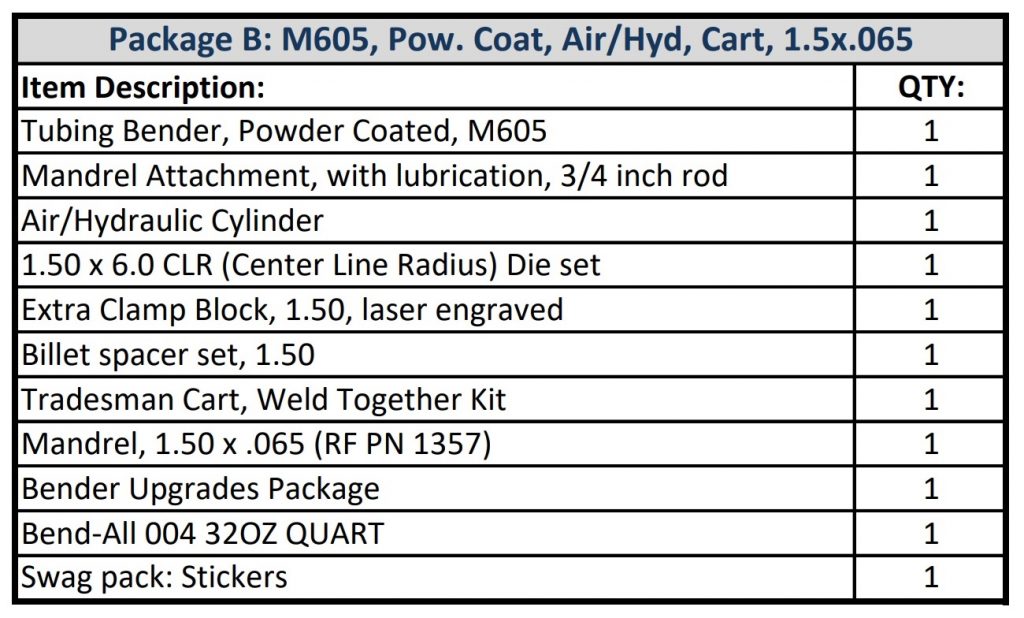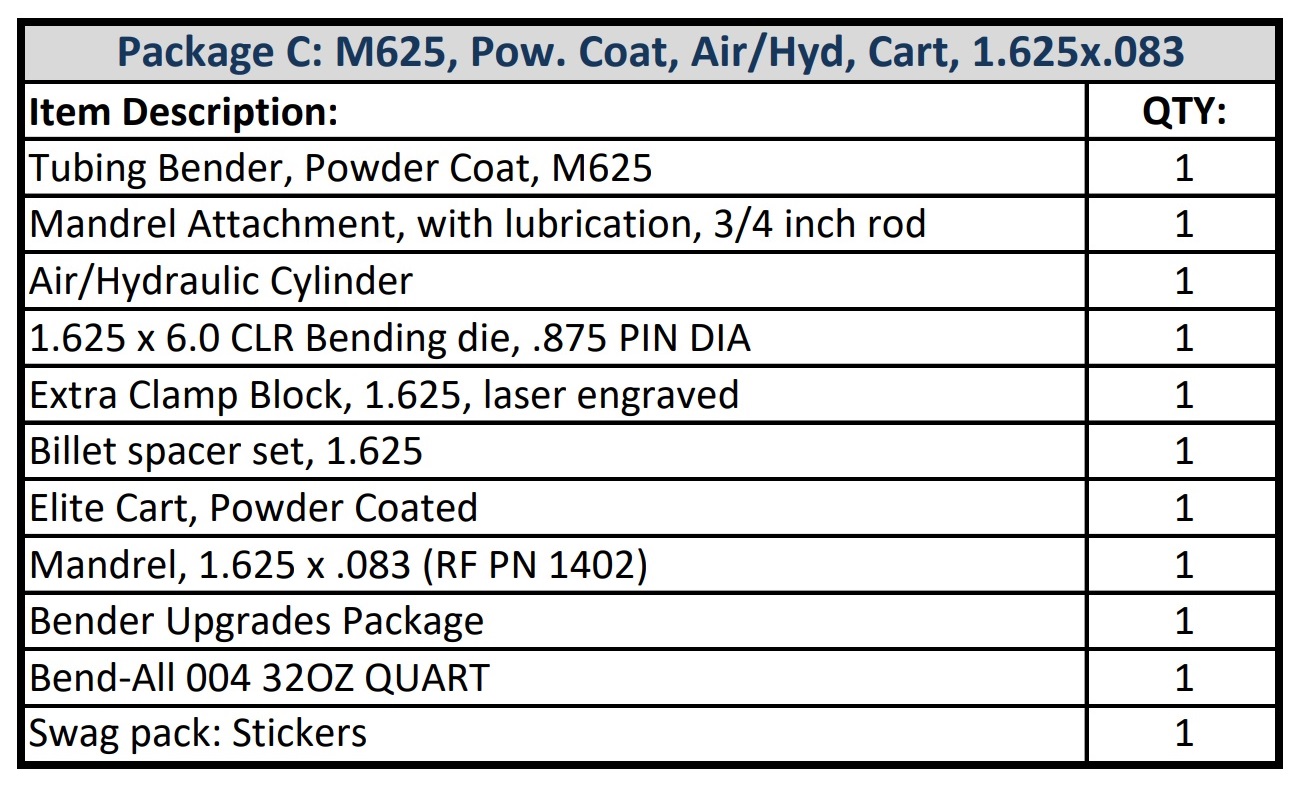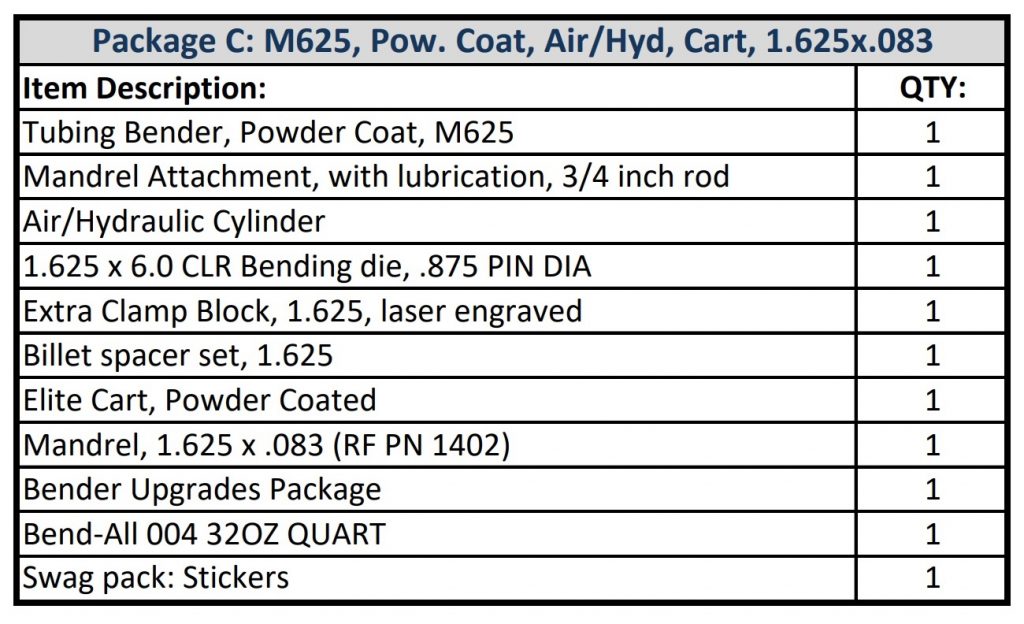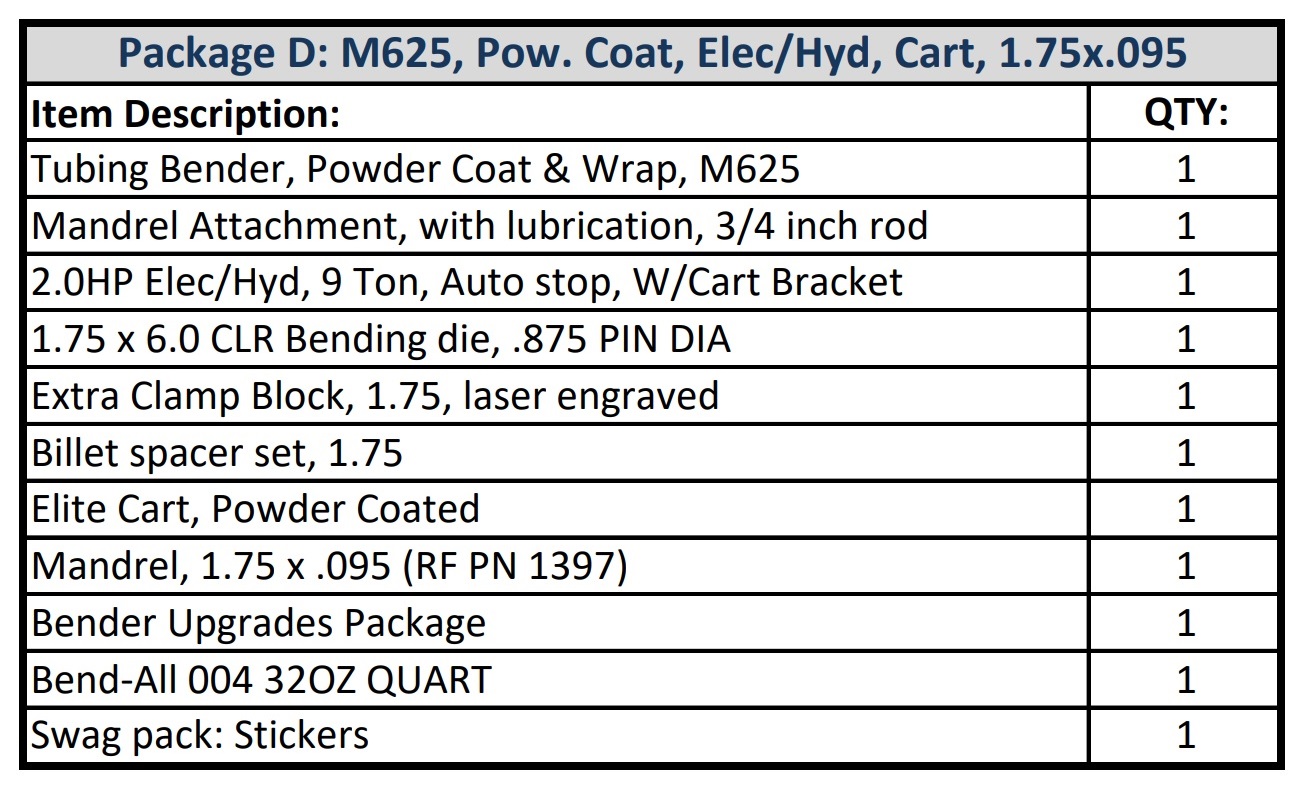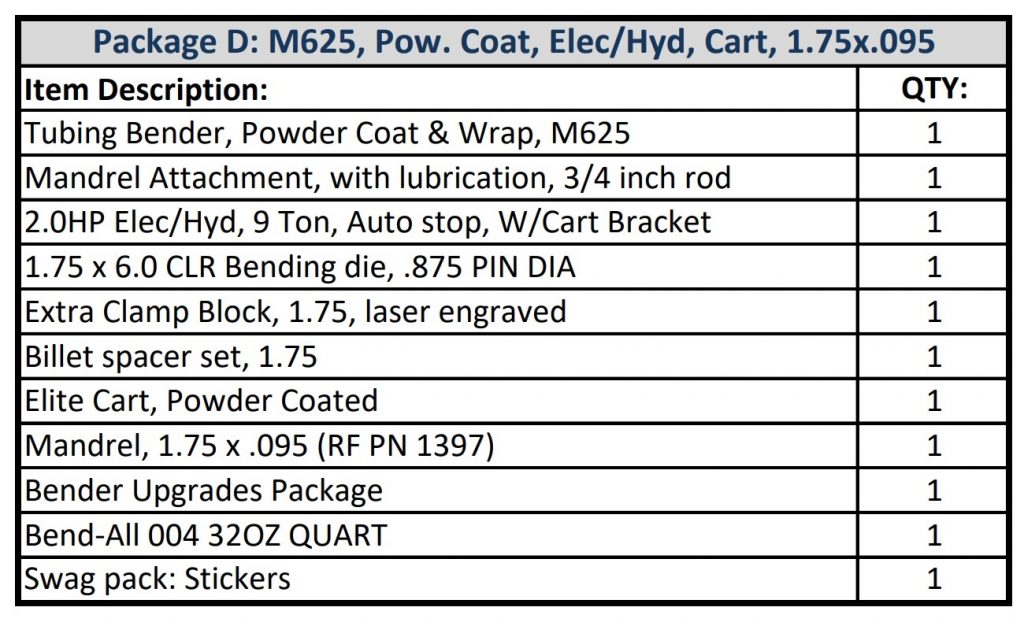 What is in the RogueFab mandrel bender package?
You can purchase the M605 mandrel tube bender from Rogue Fabrication ready to use or in kit form (see options). You get the heavy-duty mandrel pipe bender, plus air/hydraulic cylinder, one bend die, and mandrel attachment (see images).
Notes
The package does not include tubing or extra mandrel.
The pump shown in the photos was a prototype, we now have transparent-reservoir made-in-USA pumps installed with CNC machined billet aluminum and cast components. They are top of the line and don't leak past the piston with bending lube like standard pumps do!
M605 Bender Advantages
The M605 mandrel pipe bender is the most competitively priced machine in the industry. We offer 4 die/mandrel bending package options (1.25 x 4.5, 1.5 x 4.5, 1.625 x 6.0, 1.75 x 6.0). Click on the drop-down menu to see the description of each bender package and the corresponding price. Each Rogue Fabrication M600 mandrel package option shows the total cost.
Are you working on a tight budget? You could try buying a hydraulic cylinder locally. You could also buy one of the Rogue Fabrication weld-together kits to save money. Doing so gets you the same mandrel tubing bending capacity but will save you around $400.
1. Bends the broadest range of wall thicknesses
Our M625 (Extreme Heavy Duty) bender with a mandrel attachment can bend from .065 wall 1.75 OD tubing up to solid steel bar. There is no other machine that we have found (at any price point) that can handle such a broad range of wall thicknesses.
2. Unique through-mandrel lubrication
Through mandrel lubrication is critical to mandrel bending performance in tough applications. Our machine has a patent-pending lubrication system to achieve high performance even for the toughest bending tasks. This is a feature not offered by any other mandrel bender on the market.
3. Tested and rated on Aluminum, Stainless, and Titanium
Other machines aren't tested on any interesting alloys – only steel. They put the obligation of research on the customer. We have already tested most common applications and deliver a thoroughly engineered and proven metal shop solution to you.
There is no need to waste time experimenting with the M600 mandrel bender package. Rogue Fabrication has a comprehensive database of test results and mandrel positions for our products. You can immediately leverage all our expertise and experience for your projects.
4. The most compact mandrel bender on the market
Our mandrel attachment hangs flat on the wall when not in use! It is the most compact on the market. See our simple storage system for just how little space this system can take up. We understand the value of your shop space, and we will not waste it!
5. Extendable to process longer tubing & pipes
The M605 mandrel bender can be extended to handle other bending applications apart from those common for motorsports. It will bend a range of materials suitable for handrails, boat work, brewery plumbing, etc.
Our default length of 74.5″ was chosen to meet the needs of the motorsport industry for making sub-6-second compliant SFI and mandrel-required SCORE race car cages. This length is also enough for most other applications.
We have extensions available to allow bends to be placed in the center of 20′ long sticks of tubing, for applications like outboard and dock protection, greenhouse frames, carports, center-bend wake towers and racks, as well as handrail work.
6. Made in the USA
The M600 series by RogueFab is one of the most cost-effective mandrel bending machines in the world, able to bend 1″ OD steel tubing. Also, the mandrel, structural components, machined parts and pump are produced here in the United States.
7. Accuracy and stability
The M605 mandrel bender machine is designed to work with mandrels. Its A36 steel frame, pressure die, wiper die, clamp die, and other key elements are CNC laser-cut and formed to create better bends, a precise bend radius, and superior stability. Its firm clamping mechanism helps create precise bend movements. Its precise application of pressure makes every project quicker, easier, and more cost-effective.
8. Easy operation
The oversized 1″ ACME drive screw makes extracting the mandrel tube incredibly easy for the operator. The mandrel attachment incorporates the Rogue Fabrication premium through-mandrel lubricant injection system. The lubricant makes the mandrel last longer and gives superior performance.
9. Versatile bending
The M600 series Tubing & Pipe Bender is adjustable and can work with 2.5 CLR, 3.5 CLR, 4.5 CLR, and 6.0 CLR dies on pipes, tubes, and other specified materials. Each M600 series pipe bender package comes with one bend die (see package options below).
The positioning of the mandrel is front-to-back adjustable to control precise tuning of the material bending process. This adjustment is a feature found on larger, industrial, mandrel bender machines for tubes, costing $100K plus typically. In addition, saving mandrel bend positions is easy with the ACME locknut provided, making repeat bend positioning an effortless task.
10. High-performance mandrels
The design of the mandrel tube bender attachment is compatible with Rogue Fabrication's high-nickel bronze alloy mandrels. These are high-capacity, industrial-grade with superior surface lubricity for enhanced performance in mandrel benders. Again, this is a feature typically found in a $100K+ industrial bender machine. Our mandrels easily bend thin-walled titanium, stainless steel exhaust components, header elbows, and turbo manifold tubes.
Specifications
Max. Pipe Capacity: 1.50 NPS x 6.0 CLR, Sch 80
Max. TubeCapacity: 2.00 Tube x 6.0 CLR, .188 wall (.250 wall on the M625)
Power: air/hydraulic pressure cylinder (electric/hydraulic optional)
Supported pipe profiles and materials
Round tube bend die: round tubing and also solid bar (when within capacity limits)
Square die: square tubing
Pipe dies: round pipes
Availability
The production run of the M600 Mandrel Tubing & Pipe Bender is limited, so backorders do occur. All customers who buy the M600 will be notified within 24 hours if their purchase is subject to backorder.
We made this listing to illustrate an example of the total cost for the M605 as a mandrel tube bender. You could also save some money by getting the hydraulic cylinder local to you at Harbor Freight or by getting a weld-together bender kit from us. Those 2 options would save you close to $400.
Warranty
Rogue Fabrication has built a name for excellence and innovation in the bending machine and equipment market. M600 Mandrel Pipe Bending machines come with a lifetime warranty. We guarantee that our M600 mandrel benders work as described. All Rogue Fabrication pressure die models also carry a lifetime warranty (subject to bending appropriate pipe/tube/or other material). For full details of the warranty, see the FAQ section here.
For more information about our high-quality mandrel tube bender and pipe bending machines, product or customer support, call us at 503-389-5413 or send an email to sales@roguefab.com
Machine Dimensions:
M6xx tubing bender: (assembled, ready to bend): 12"x30" floor footprint. Overall dimensions 12"x47"x32" (LxWxH). Weight 140-200 lbs.
M6xx Bender on Cart: 22"x34" floor footprint. Overall dimensions 22"x47"x68" (LxWxH). Weight 210+ lbs (depends on cart contents).
M6xx Mandrel Bender on Cart: 22"x34" floor footprint. Overall dimensions 22"x105"x68" (LxWxH). Weight 295+ lbs (depends on cart contents).
More info on the mandrel tube bender machine in our video:
Mandrel bender in action:
Compatibility:
M6xx tube benders work with the mandrel and the backstop assembly, but not at the same time, as they (they backstop and mandrel attachment) attach in the same place. This works on our carts. Our M6xx mandrel benders also work with an electric/hydraulic power system. The mandrel tube bender works with our pedestal mount on our cart with a Versanotcher, but ONLY when you have our offset bracket installed (link here). This may work with the TWR (Thin Wall Roller).