Drawings for FREE PRIZES!
Every month we do a giveaway for something here at Rogue Fabrication. Some months you have to share a social media post to enter, while other months you may have to submit a photo or a review. Every time we do a giveaway, there is one thing you can count on- you can always enter by ordering anything in our swag category (that is what we call our shirts, hats, keychains, stickers, banners, etc.). You can post comments on these right here, this is a blog.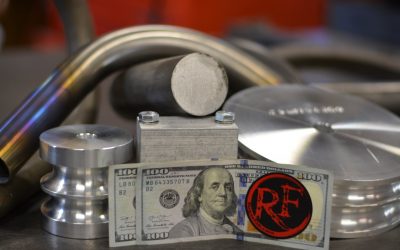 We're giving away $200 in credit or a FREE 180 degree Die Set!
Entering is EASY! All you have to do is share this post and either:
1. Post a review (multiple entries allowed)
2. Order swag from us (multiple entries allowed)
We need your help to spread the word about our brand and our awesome tools and resources that help fabricators be successful.
DRAWING/PRIZE DETAILS:
We will draw a winner live on Facebook at 8:00 AM PST on Thursday, November 1st. That person can chose to get a FREE die set of their choice- standard capacity, 180 degree, with pressure roller die upgrade as shown, in 3.5 or 4.5 CLR only. Any other upgrades to die set may be purchased at winners expense. Shipping not included. Winner may chose to instead take $200 in RogueFab.com credit, which can be applied to any order over $300 before shipping.
HOW TO ENTER (full details):
1. You MUST share this post to your facebook timeline.
2. You MUST also do one or both of the following:
2A) Review our company or products. You can review our company on Facebook, Google (search for our company while signed into a google account and click on "reviews", then "write a review"), or right on our web page. To review our products on our webpage, just shop for our products and click on reviews once you're viewing a product. From there, you can enter your review and add a picture. Any review with a picture and text counts for two entries.
2B) Buy ANY swag on our web page (www.roguefab.com) this month, October. You will get an entry for every $10 in swag that you buy. Swag includes T shirts, hoodies, all hats, all RogueFab.com branded stickers, landyards and banners.
Here is how we're going to count all this up. Assuming you know how to read and shared the post (yes, we're being snide), we're going to count up all the entries you have and get a total. So if you reviewed 3 of our products (that you actually own) and had text and photos on all of them, that makes 6 entries. If you also reviewed us on Google and Facebook with one having text and a photo that makes another 3 entries. And if you really love our awesome shirts and bought a short sleeve for you, a long sleeve for your grandpa, and a sexy fitted V neck women's shirt for your neighbor, that would get you another 7 entries (one for every $10, remember?). The grand total for this fictitious and very busy person is 16 entries.
We will be doing giveaways like this EVERY month as long as you guys and gals participate! Let's get excited about it! Last month was a hat, this is WAY bigger!
#GoRogue #Madeinusa #freemoney #giveaway #contest #freetools #m600 #versanotcher #printedinUSA #local #itstimetodie #musthavetools #getbent #becauseracecar #mandrelbending #benttitanium #2inchsolid #tubebender #tubingbender #tubebenders #tubingbenders #pipebender #pipebenders #welding #workhard #fabrication
Void where prohibited. No cash back given. No cash value. No purchase necessary to enter.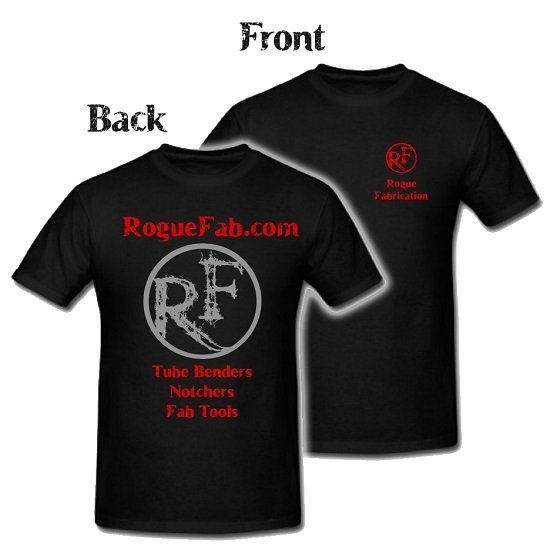 We're ramping up our giveaways! We need more followers before we start giving away tubing benders, but we're going to. Want to help and get a chance to win a FREE T SHIRT? Just share this post and invite 2 or more friends to like our page. It's super easy:
1. Click "share" below.
2. Click Rogue Fabrication to go to our page, and then click "Invite Freinds to Like This Page", which is right under the heading "community". It will show a list of your friends, and all you have to do is start clicking on the check boxes and it will invite them.
The giveaway will be posted live on August 31, 2018. It will be a video here on Facebook. You must BOTH invite 2+ friends AND share this post for your entry.
These giveaways typically only have a handful of people enter (like 5 to 50), so your chances are REALLY GOOD. If we have a whole bunch of entries we will give away more stuff. We're nice like that. We will gradually increase the value of our giveaway prizes as we continue down this path. We have recently given away $50 in store credit, $200 in store credit, T shirts, Hats, Landyards, and we even raffled off an M600 tubing bender and a Versanotcher. We're not afraid to invest in your tools for you!
We're not shipping a T shirt across an ocean or anything. Sorry, but if you're outside the USA, this contest is not for you.