Rogue fabrication has developed a
range of tube benders
that customers can use for bending square tubing up to 1.50 (1 1/2″) x 6.0 CLR. Roguefab's square tubing benders are known for their exceptional bend radius accuracy, superb quality, versatility, and durability. Roguefab offers the highest-quality, square tubing benders at the most affordable price on the market today, especially with our current sale price and fast delivery!
How does a square tube bender work?
The main parts include a fixed die, adjustable die support, a ram, and a backstop. The ram forms the tube after it passes between the first two. After the pipe bender forms the bend, you can use flanging tools to close the ends.
What types of projects use a square tubing bender?
Square tube bending is suitable for fabricating various items such as frames, equipment enclosures, animal shelters, street signage, gymnasium bleachers, handrails for staircases, security fencing, and many other applications.
What should I consider before buying a square tubing bender?
There are several factors to consider before buying a square tubing bender:
Capacity: The first factor to consider is the rating of the machine you intend to buy. Do you plan on bending heavy-gauge material such as stainless steel? Make sure that the bender has a rating high enough for the size of pipe/tube you need to bend.
Bending Angle: Also, ensure that the bender you buy can produce the angles you need. It should be adjustable to accommodate a variety of tubing sizes with little effort.
Setup: The last thing that you need to consider is how much time it takes your machine to set up for bends. A heavy-duty bender will have considerably more setup time. If you plan on bending large quantities of tubing, time can be critical.
Types of Tubing Benders
Tubing benders are available in different forms and sizes: automatic, CNC milling, or semi-automatic devices with hydraulic mechanisms.
You must evaluate the bender to determine whether it can bend the size of material with the required accuracy and quality. Various types of steel may be bent, but some grades of aluminum may not be suitable for all machines.
Factors such as bending ability, restrictions, and power rating are critical for making an informed buying decision.
Rotary Draw Bender
The most popular method used in producing a range of products, including handrails, conduit bends, vehicle chassis, roll cages, and many more uses.
Ram Style Bender
A cost-effective and easy way to bend. The inward or outward deformation results in an oval formation determined by the thickness of the item you bend.
Ring-Roll Bender
A roll bender is ideal for bending larger tubing, which requires a larger centerline radius. A typical roll bender comes with 2-3 rollers that you can adjust hydraulically or manually.
Mandrel Bender
When the square tubing to be bent must not be deformed, mandrel bending is the best option. The tube is supported internally by a mandrel, preventing any internal deformation.
Mandrel bending is ideal for fabricating exhaust pipes and other automobile parts. It is the best option when minimal distortion of components is required.
Roguefab Square Tubing Bender Benefits
The main benefit is our M600 line includes machines that accept dies for round pipe and square tubing material. Just change the die set to a square one, and you are good to bend square tubing. Other benefits include: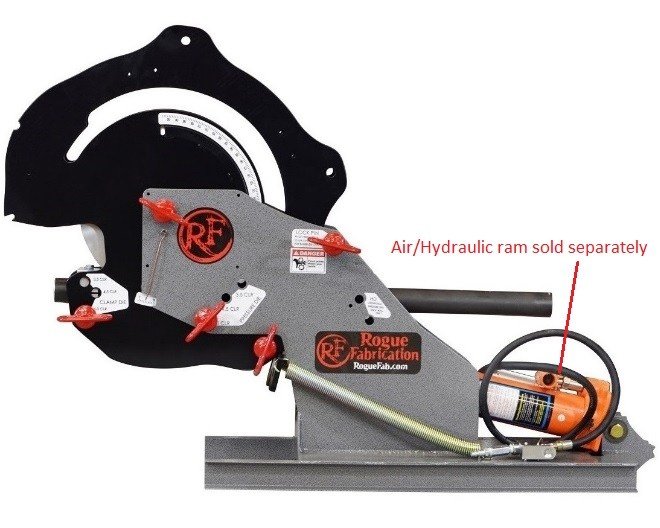 1. Superb bend Quality:
Our dies produce excellent bend quality without the need for any additional tooling, machining, or fabrication.
2. Versatile:
Our square tubing bender is one of our most popular products. It is versatile and easy to set up with minimal tooling. That makes it ideal for fabricators, race teams, and hobbyists.
3. Flexible:
Our M600 pipe and tube bender will bend the broadest range of wall thicknesses in both round and square material. Our square die kit allows you to bend steel, aluminum, copper, brass, and titanium, all with the same machine.
4. Easy setup:
With Roguefab benders, the setup time and tooling required are minimal. You will be ready to bend any item in minutes!
Warranty
A good warranty is essential if you want the best value for your money. At Rogue fabrication, we take great pride in the quality of our products and tools. All structural components are precision machined right here in the USA. We stand behind them by offering a lifetime warranty.
If there is a problem with your bender or any tools you purchase from us, we will fix it or send you a new one. We offer ongoing technical support and advice by phone for any questions you may have.