Description
The VersaNotcher from Rogue Fab is a patent pending tubing notcher that can cut pipe and tubing at angles of up to 225 degrees. It's ideal for fabricating NHRA compliant roll cages, fences, gates, and a wide range of other fabrication projects. It has quick-release cam locks for precise and easy adjusting of items in a matter of seconds. Rogue Fabrication is an industry-leading company specializing in tube fabrication machines & equipment. Our innovative tubing notcher product receives excellent reviews from customers and other professionals in the niche. We normally keep these in stock and ship them within 1-3 business days.
Benefits
Clamp on a bend
The design of this tubing notcher tool quickly and securely clamps tubes on a bend, even while rotated. Only the VersaNotcher and the TN-250 tubing notcher can do this. All other tube notchers lack the design geometry to safely clamp on a bend when the tubing is rotated in the clamping jaws. A few notchers can clamp on a bend, but only when flat against a plate – the rest can't clamp on bends.
Notch a wider variety of materials
The VersaNotcher is the only tube notcher we know of that works quickly and safely with such a variety of materials. It works on round tubes, square tubes (diamond and flat orientation), rectangular tubes, flat bars, angle iron, and C channel.
Adjust notching angles without tools
The VersNotcher cam locks make adjusting cutting angles quick and easy, without any need for additional tools. Bending jobs require less time and effort than with other tube and pipe notchers.
Precision ACME vise thread
The VersaNotcher tube notcher incorporates an ACME thread lead screw with a thrust washer (bronze) for reduced friction and enhanced durability. All well-made vises use ACME threads (with a square profile). These last longer and have low friction. Some pipe notcher tools use V threads, like a bolt, but these are not a long-lasting solution.
Features
The VersaNotcher also includes many other excellent features:
Pivots: Bronze bushings impregnated with Oil-Lite, case-hardened, polished axles.
Bend Angle indicator: CNC milled, marking each 2.5 degrees increment, with numbered 5-degree increments.
Offset indication: Shows 1/8″ Increments.
Shaft: 1″ OD 416 heat-treated, ground, polished, stainless steel, with dual hardened bearings.
Clamping interface: Lockable handle (quick-release) mounted on an ergonomic handwheel.
Finish: unpainted steel
Assembly: None required
Hole saws: Works with any standard hole saw on a standard drill arbor for making round cuts in pipes (RogueFab arbor included with VersaNotcher). All VersaNotcher models now come with a longer frame. This update enables the VersaNotcher to accommodate 3-inch deep hole saws.
Power: can be used with any 3/8″ or 1/2″ hand drill press.
VersaNotcher Specs
Round Tube Capacity: 3/4″ to 2″ on bends, up to 2 3/8″ diameter straight tubing
Square Tube Capacity: 3/4″ to 1 1/2″ (2″ when notching diagonal)
Flat bar Capacity: 1″ to 2 1/2″ wide
Angle adjustment range: 225 degrees
Max offset: 1 7/16″
Max Hole Saw Diameter: 4″
Min hole saw depth (1.5″) Max hole saw depth (4″)
Notch on a bend: YES
Clamp on a bend: YES
Clamp square tube in "diamond" orientation: Yes
Shipping Weight: 21lbs
Shipping Dimensions: 13x13x7in
Supported profiles
Round dies bend tubes and also solid bars (when within capacity limitations)
Square dies bend square tubing
Pipe dies bend pipe
Warranty
The heavy-duty VersaNotcher tool and other RogueFab products and parts have a lifetime warranty for the original purchaser (unless stated otherwise). We guarantee the VersaNotcher will work as described. Plus, we offer a lifetime guarantee on dies (subject to use for bending appropriate pipes/tubes). You can see full terms and conditions in our FAQ section here. If you want to know more about our professional tube and pipe notchers call us at 503-389-5413 or drop us a message at sales@roguefab.com for more information, technical product support, or customer service inquiries.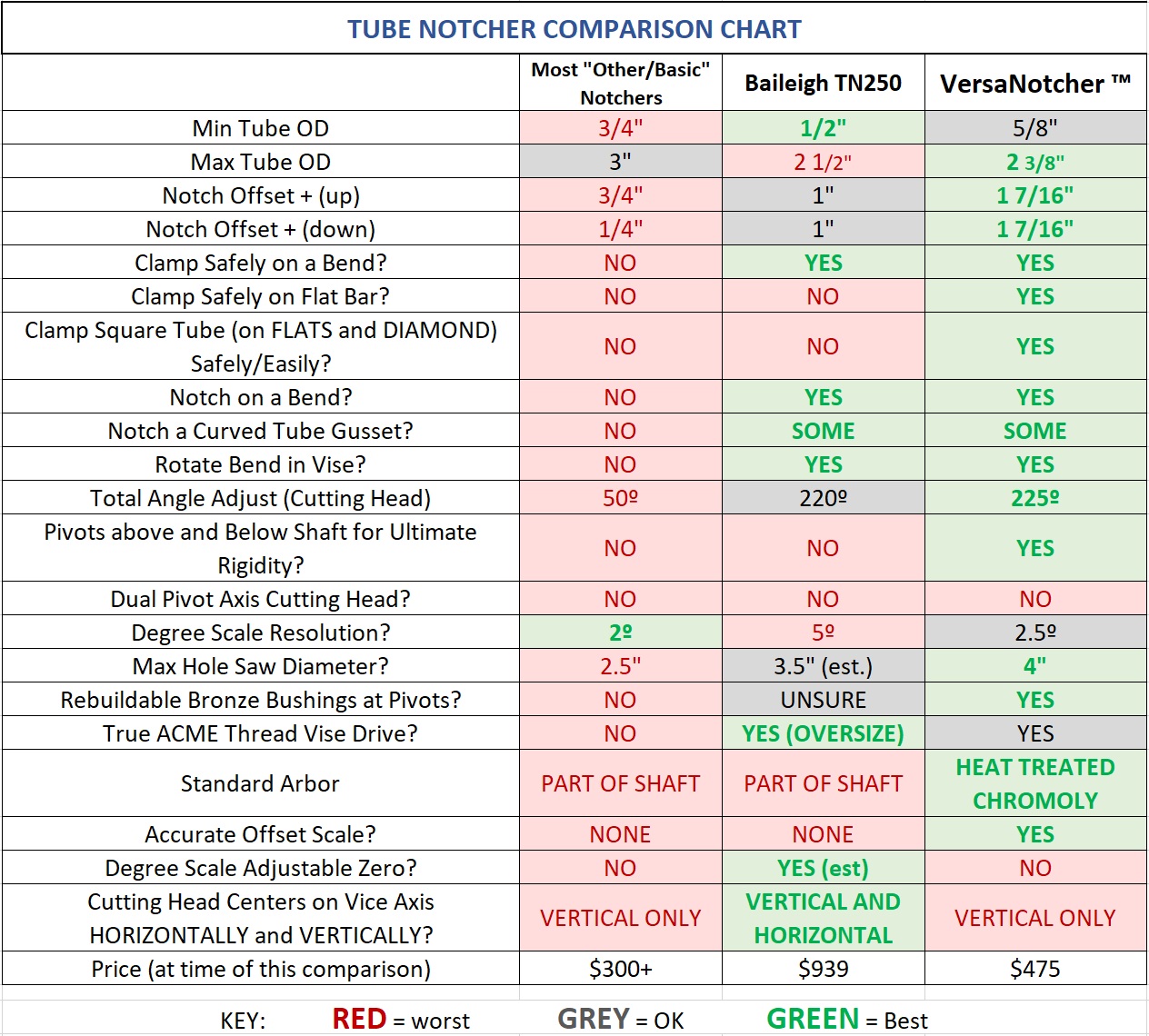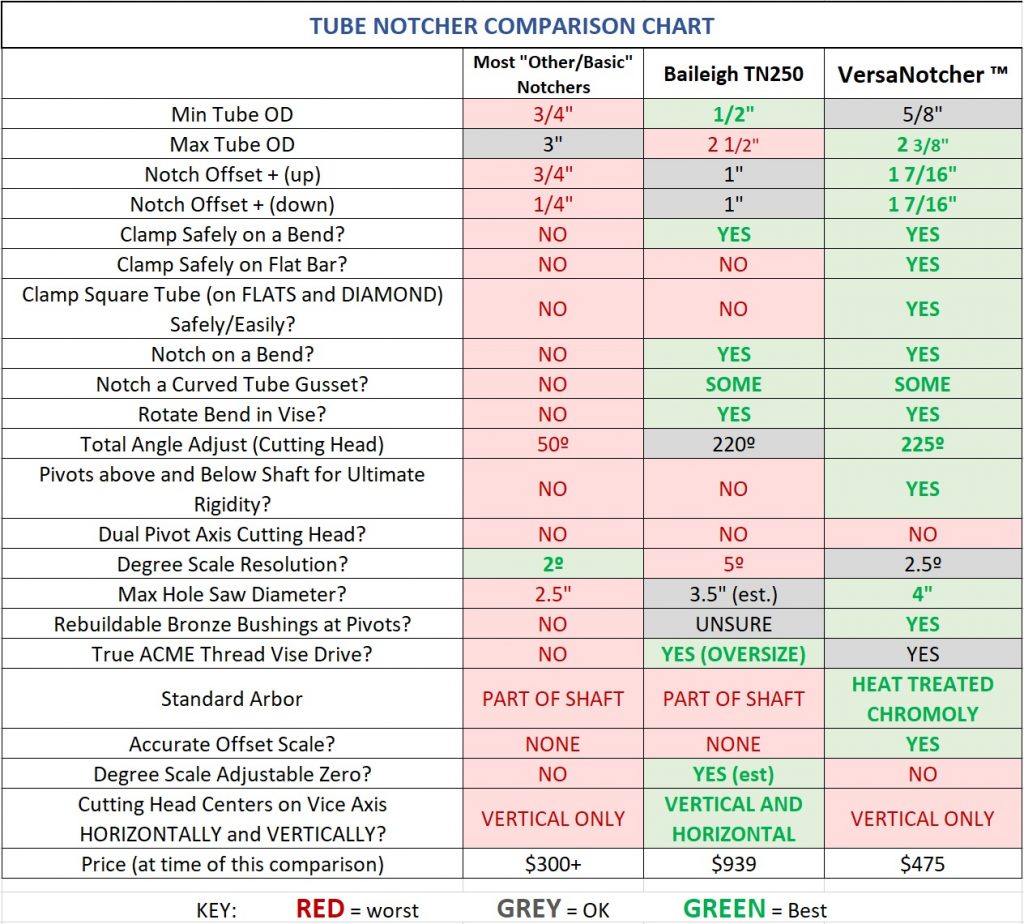 Check out all the features! Don't for get to subscribe to us on YouTube to see more videos.
Similar Product Warning – Another company makes a notcher extremely similar to the VarsaNotcher (identical bearing block design and adjustment, vise jaw shape and orientation identical, etc). This product was partially reverse engineered from a VersaNotcher purchased from us by that company. We discourage this kind of "copy design" process, as it isn't good for either company, but it is up to you (the customer) who you want to patronize. Thank you.