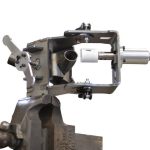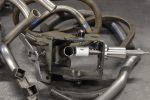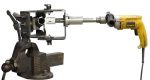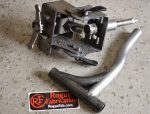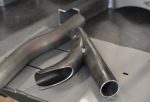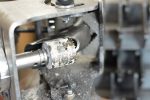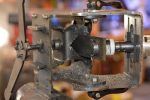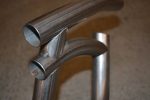 VersaNotcher – Universal Pipe and Tubing Notcher
Our high-performance tubing and pipe notcher tool is designed to make extremely precise round cuts in pipes and tubing at angles up to 225 degrees. Made in the USA and built with the client's satisfaction in the first place.
The VersaNotcher is a PATENT PENDING tubing notcher and pipe notching machine can make cuts and holes at angles up to 225 degrees. There are quick-release cam locks for fast precision adjustment. No assembly is required. This tubing notcher mounts easily in a bench vise.
Note – All notchers shipped After June 15th, 2020 ALREADY have the longer frame installed. This update was for the VersaNotcher to accept 3 inch deep hole saws.
VersaNotcher Specs:
Round Tube Capacity: 3/4" to 2"
Square Tube Capacity: 3/4" to 1 1/2" (2" when notching diagonal)
Flat bar Capacity: 1" to 2 1/2" wide
Angle adjustment range: 225 degrees
Max offset: 1 7/16"
Notch on a bend: YES
Clamp on a bend: YES
Clamp square tube in "diamond" orientation: Yes
Versa Pipe/Tube Notcher Features:
Angle adjustments: Quick release cam locks for fast precision adjustment.
Pivots: Oil-Lite impregnated bronze bushings with case hardened and polished axles.
Angle indication: milled into the frame for durability. 2.5 degree hash marks, numbers every 5 degrees.
Offset indication: milled into the frame for durability. 1/8" Increments.
Shaft: 1" OD 416 polished and ground heat-treated stainless steel on dual hardened bearings.
Vise interface: One hand lockable quick release handle mounted to an ergonomic hand grip wheel.
Vise type: True ACME lead screw with bronze thrust washer for long life and reduced friction.
Finish: Plain steel frame
Assembly required: None.
Hole saws: accepts standard hole saws on standard arbors (RogueFab arbor included!).
Power: Use any 3/8 or 1/2" hand drill.
If you want to know more about our professional tube and pipe notchers call us at 503-389-5413 or drop us a message at sales@roguefab.com

Similar Product Warning - Another company makes a tubing notcher extremely similar to the VarsaNotcher (identical bearing block design and adjustment, vise jaw shape and orientation identical, etc). This product was partially reverse engineered from a VersaNotcher purchased from us. We discourage this kind of "copy design" process, as it isn't good for either company, but it is up to you (the customer) who you want to patronize. Thank you.
Features/Videos
Check out all features of our professional tubing notcher and pipe notcher tool! Don't forget to subscribe to us on YouTube to see more videos.