Are you in the market for a tube bender? There's a big selection to choose from. To buy the best tube bender, you need to consider a lot of different factors, each of which is crucial in the performance of the equipment.
A bad choice may mean more effort spent on the job, incorrectly shaped tubes/pipes, or tube damage.
Our guide examines the critical factors to consider and makes it easy to choose the right tool for the task or operations you need to do.
We compiled this comparison review based on thorough research on the most popular tube benders available. In this guide, you will learn about what to consider before deciding on the right pipe/tube bender.
You don't need to be anything like an expert to decide which is the right metal pipe/tube bender for you. We explore the pros and cons of all the models, the different sizes of pipes, and the materials you can use with these machines. We conducted research which put all these machines through their paces and tested the max bend angle sizes, performance with different metals, how easy it is to get the right tube diameter position with the dies for each task, and more.
Let's dive into our review of tube benders.
Comparing Tube/Pipe Benders – 11 Factors We Consider Most Important
While one tubing bender may be the best choice for one person, others might find it unsuitable to use for their chosen task depending on the sizes and types of materials (aluminum, steel, chromoly/4130, titanium, etc.) it handles. There are several factors to consider when you buy a pipe/tube bender. The most important are:
1. Type of Tube Bender
The design of tube benders can be divided into four types. Each design has its use due to its unique pipe bending process. These types are:
Open Rotary Draw Bender: This design is the best roll cage tubing bender, and handles most pipe and tube sizes, lines, etc. most people want to use. It is one of the most popular picks for its flexibility and durability.
Mandrel Bender: Used when maintaining the inner diameter of the tube is important. They use bronze alloy internal plugs or other round flexible supports to provide extra inner profile control for the pipe or tube while being bent. They are ideal for making tight bends and bends with nearly no deformation.
Roll Bender: Used for bending pipe or tubing into circular arcs (gradual bends of very large radius) or making coiled pipe.
Ram-style Bender: Quick and inexpensive pipe bender; use for making tubular structures, fencing posts, and exhaust systems, and similar.
2. Power
A high-powered bending tool provides higher output with relatively little force required. So it handles thicker and denser metals with ease. There are manual benders, hydraulic benders, and electric benders.
3. Capacity
Every pipe bender handles a specific maximum capacity of the material that you can bend with it. This capacity is generally provided by the manufacturer in the bender's technical information section.
4. Pricing
Read through our picks and you'll see that some good benders cost as little as $300 to upward of $2000. The pipe bender you choose should be within your budget and, more importantly, should offer great value for money.
5. Accuracy
Certain bending jobs require you to work with a precision bending radius down to the last fraction of an inch or millimeter. At the same time, there are other tasks where minute deformities in the tube can be tolerated.
6. Supported Materials
A tubing bender can handle a specific material or range of materials. This information is key for narrowing down the tube benders suitable for the work you do.
7. Design Quality
If you are investing in the high end of the spectrum, you want a tubing bender that handles everything you need, with an excellent design and high quality.
8. Ease of Use
It is important to know how easy (or difficult) it would be to work with the tubing bender you choose. Not all are the same.
9. Safety
Many people make the mistake of buying budget pipe benders that have no safety precautions. It is better to invest a little more than to put your life in danger while you work.
10. Warranty
With a piece of equipment as expensive as a tube bender, you want decent durability. Make sure that the bender comes with a parts warranty covering the product, in case of problems. You should also consider the level of customer service provided by the manufacturer.
11. Bending Range
Each job may require you to work with different bending ranges. A pipe bender that handles a higher range is better.
Best Tube Benders Compared
#1 RogueFab M6xx series Tubing Bender (M601/605/625)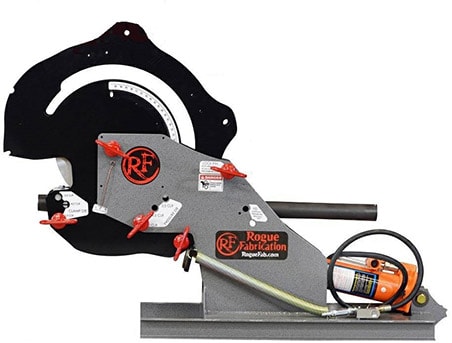 The RogueFab M600/M6xx series (models 601/605/625) metal tubing bender is one of the top picks.
The M6xx series bends aluminum, steel and other metals to 94 degrees in a single shot, while some other benders can't bend metal beyond 90 degrees. It bends a wide range of round and square tubing, including brass, copper, carbon steel, stainless steel, titanium, and aluminum.
The RogueFab tube benders are so popular because it is a highly customizable machine. You can add the upgrades available, such as air/hydraulic fluid ram to handle the toughest jobs, and pressure roller dies that don't mark metal surfaces. These extras turn the RogueFab M600 into a high-end professional work tool.
Other upgrades include a made-in-the USA electric/hydraulic power system (by RogueFab), thin-wall roller for thin round tubes/pipes, backstop (for ensuring consistent bend radius spacing), and rotation gauges. They even offer a complete conversion to make their machine into a true mandrel bender for super thin wall applications.
The ram upgrade is affordable, so the RogueFab M600 series tubing bender (with ram upgrade) is a great deal!
PROS: What we like about it
A large number of attachments and upgrades.
Heavy-duty capacity to bend metal and solid steel bars up to a two-inch diameter (per their videos, up to 1.75 published capacity).
Top-notch build quality.
Superb versatility and a good range of bending angles.
Low initial cost (just over $1000 with air/hydraulic ram), high value for the money.
Electric/Hydraulic options are double acting, making them among the fastest on the market.
CONS: What can be improved
Many things are sold separately, for example, there is no reverse bending attachment
Comes with a lifetime warranty, but it is on workmanship and material, not a "no questions asked unlimited warranty"
Our Verdict
The RogueFab M600/M6xx series bender offers great performance for making S-bends. It also bends aluminum and super thick DOM tubing sizes and bends 4130 Chromoly steel tubing easily to build roll cages that will pass technical inspections.
Rating: 9/10
#2 Baileigh RDB-050 Tube Bender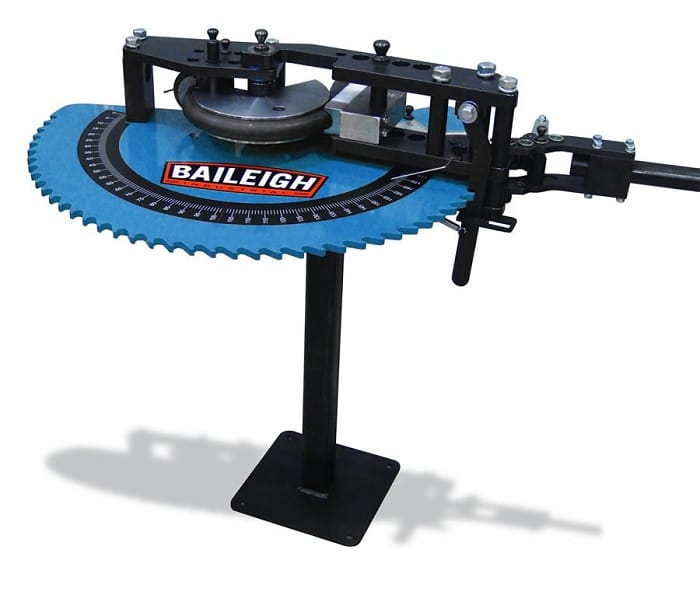 The Baileigh RDB-050 is a manual-type tube bender that outperforms expectations with the heavy-duty metal bending capacity of the machine. The RDB-050 can bend OD mild steel tubing up to 2.5 inches in diameter; impressive for a low-pressure manual tube bender.
We like the multiple-speed options. Since light materials like aluminum can bend relatively faster, the RDF-050 offers three-speed settings depending on the size of the material: 4° (produces most torque, applicable for 2.5in OD mild steel or 2in OD Chromoly tubing), 8°, and 12° per pull.
Being a manual type bender, the operation is via a ratchet mechanism. Each movement produces about 4° of bend, which is not bad. An anti-spring-back mechanism holds the bend in place after every ratchet. This tool's versatility and performance are impressive, it can bend up to 200°.
The RDB-050 is an all-in-one package. The bender comes with a stand for stability, degree dial, and bend handle for extra leverage. However, the dies need to be bought separately from the company. Baileigh provides custom dies for use with different types of metal
PROS: What we like about it
One of the easiest operation tube benders
Heavy-duty capacity roll cage tube bender
Everything comes with the bender itself (except dies)
No added accessories needed
Top-notch build quality and performance
Reasonable value
Multiple speed control options for different materials (steel, aluminum, etc.) and angles
Lightweight
CONS: What can be improved
This product has a high price tag, considering it is a manual tube bender.
Dies and a reverse bending attachment are not included with the machine, which makes the total price higher.
No lifetime warranty
Requires mounting to your floor with concrete anchors
Our Verdict
The Baileigh RDB-050 finds extensive applications as a tube bending tool for roll cages and metal chassis fabrication.
Rating: 8/10
#3: JD2 Model 32 Tube Bender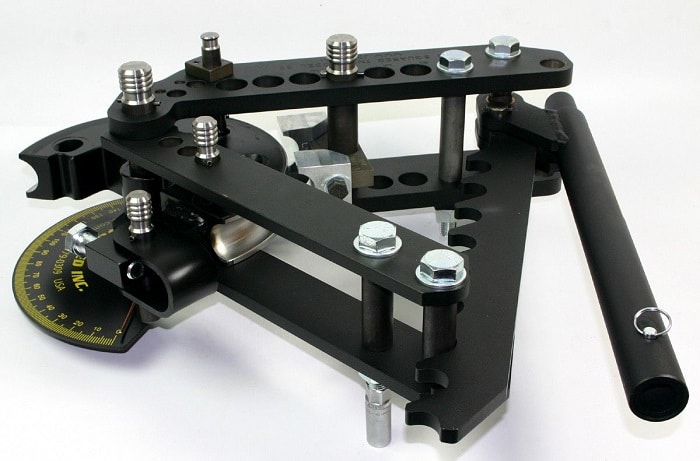 In the case of the JD Squared 32 tube bender, this machine follows a 25-year-old basic structural design, with some tweaks to improve operation and take it to the next level.
The JD2 Model 32 is a heavy-duty version of the Model 3 tube bender which had simple mechanics. But now the 32 benefits from hydraulic fluid power (optional) and higher strength for easier operation and better performance when bending metal.
It has CNC machined, rugged steel construction surfaces, designed for heavy loads and precision radius bending. It works great for the fabrication of roll cages. There is also a degree indicator wheel to provide data on the accurate bending angle of the tube.
The ratchet mechanism on this tool is as easy to use as the Baileigh RDB-050. With the machine, you get a 36-inch telescopic handle for leverage, which can be extended with any 1-inch diameter schedule 40 pipe.
Of all the machines in our article, this is certainly one of the most popular. And for a good reason. JD2 has been making these for years and know exactly what they need to do to make a great tool that works. Read our pros and cons for the details!
There are a few companies making frames that use dies from other manufacturers (like JD2). We have contacted JD2 and asked them about their warranty when their equipment/dies are mixed with components from other manufacturer's. They said they couldn't assess the cause of a warranty claim when used with parts that they didn't sell. The performance of a hybrid machine can vary, but will likely match the performance of the dies being used. Consider your access to tech support, warranty coverage, and your goals. A hybrid machine may be just what you are looking for.
PROS: What We Like About It
Even with all the add-ons and attachments, this machine is one of the cheapest tube benders in the market.
Simple construction with a lack of complex parts means it works continuously with less maintenance or breakdowns.
Degree pointer for precision bending angles.
Overall, its performance is good.
Die selection is great
Manufacturer has a great reputation and has been making machines for decades
CONS: What Can Be Improved…
Not as rugged or heavy-duty as the RD-050 tube bender.
No speed or torque control.
Must be mounted to your floor with concrete anchors to be used manual
Warranty excludes 3rd party components
No affordable hydraulic power option from manufacturer
Some customers said the degree indicator is easy to bump/move accidently based on it's location. If this mistake is made, accuracy will be compromised. It is easy to avoid though.
Dies, base mount, and concrete anchors are sold separately, making the cost much higher than it initially appears when seen for sale.
Our Verdict
The JD2 Model 32 pipe bender is great for people looking for an affordable quality product that can handle low to medium capacity requirements.
NOTE: Dies must be purchased separately.
Rating: 8/10
#4: JD2 Model 32 Hydraulic Tube Bender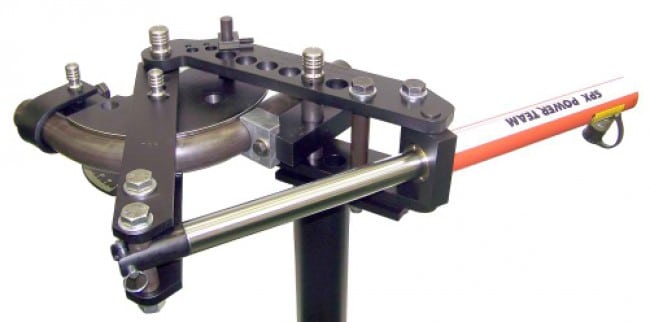 This hydraulic tube bender is the upgraded version of the base version (last updated some years ago) – and now comes with extra bending strength. Because it works so differently, we decided to include the hydraulic version as a separate entry.
Consider the hydraulic version if you do bending operations that need more force than a manual tool provides, or if you want a machine for multiple purposes. With the hydraulic version, the difference is impressive! And you get the bender, the degree plate, and the cylinder.
The single-acting cylinder has a good build quality and the machine is designed to last.
One thing to consider is that this last updated hydraulic version has a significant bump in pricing compared to the base machine without hydraulics. If you think you want to get the convenience of this version, be ready to shell out $400 or more.
PROS: What we like about it
Comes with the perks and benefits of the base version.
The added upgrades in this version serve their purpose very well, providing extra power where needed to shape whatever you're bending.
CONS: What can be improved
The addition of hydraulics does not justify the significant increase in price by about $400 (without including a pump), as the capacity of the machine remains the same.
Dies and stand are sold separately.
Hydraulics are single-acting, meaning that they are powered for bending and are not power return. The ram uses a mechanical return like a spring. This is substantially slower than double acting systems with power return.
Our Verdict:
The hydraulic version is a great upgrade from the base machine if you are okay with spending the extra money. It reduces the effort and force required to operate the manual tube bender.
NOTE: Dies and stand must be purchased separately.
Rating: 7/10
#5 Woodward Fab WFB2 Tube Bender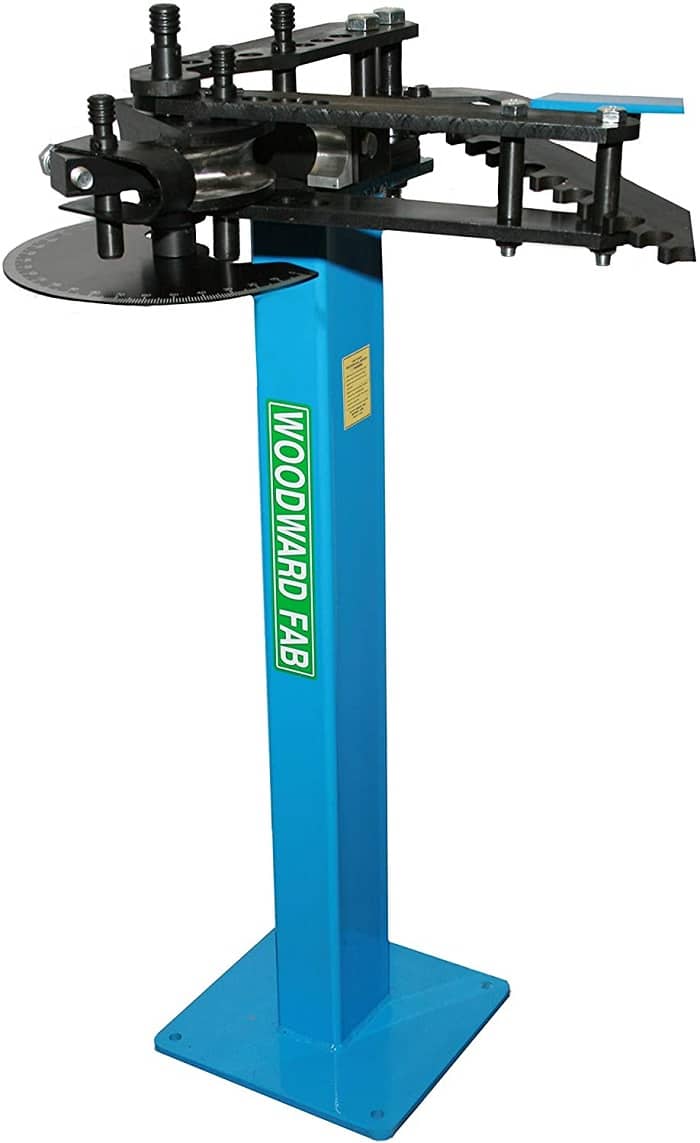 Discussing affordable tube benders and overlooking the Woodward Fab WFB2 would be a mistake. It is one of the cheapest tube benders on the market used by professionals.
This manual bender costs a little over $300, so it would be hard to find faults with the pipe bender at that price. It is great for bending tubes/pipes up to 2 inches in diameter, which is just as good as the Model 32 and other tube benders we just covered.
The Woodward Fab WFB2 works well with square tubes as well as round tubes/pipes. This makes it easy to use the tool to build and shape metal frames.
It has a 29-inch handle, which is better than some versions but still a little short of the 36-inch handle provided with the JD2 Model 32. On the positive side, the WFB2 does come with an engraved degree dial for precision bending.
One thing to keep in mind while considering this machine is that the stand, which gives improved stability to the frame structure, does not come with it. It has to be purchased separately. However, at this low cost, you won't mind.
PROS: What we like about it…
The low cost makes this tool affordable even for people on a tight budget.
All components of the bender are CNC machined for greater accuracy when bending.
The degree dial is engraved on the bender itself, so you always know the bending angle.
Less space-consuming than other piper benders.
CONS: What can be improved…
There is no provision for an extendable handle, and the built in handle is just 27 inches in length.
The build quality of the product isn't as good as the other pipe benders on the list (which can be expected and forgiven at this price range).
While most other pipe benders can bend around 180 degrees or more, the WFB2 can only bend up to a maximum of 120° on many dies.
Still requires mounting into concrete like most manual benders
Our Verdict
The Woodward Fab WFB2 is great for DIY users who are seeking a tool in the lower to middle end of the segment. It is a cheap machine for making a metal frame or a similar structure, with a diameter smaller than 2 inches.
Note: Dies sold separately.
Rating: 8/10
#6 JMR Raceline Tube Bender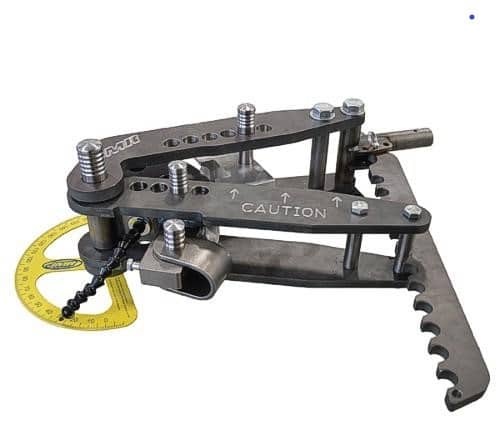 For the hobbyist or DIY user who does not need a professional machine, a cheap option can often do the job without any unnecessary investment in high-grade components. For all these requirements, the JMR Raceline tube bender is the answer.
This tube bender costs just as much as the Woodward Fab WFB2 but provides extra capacity by supporting 2.5-inch diameter tubes. However, in terms of the build quality, the WFB2 has the Raceline tube bender beat.
The JMR Raceline features nylon/graphite bushings at the pivot arm, uncoated steel arms, and heat-treated 4140 steel pins. If you plan to increase your tube bending requirements, the JMR Raceline can be upgraded with a hydraulics system.
It supports three bending speeds based on variable torques, which increase efficiency depending on the width of the material you're working with. You also get a degree dial to see the exact bending angle of the tube.
PROS: What we like about it…
The price of this machine (including all necessary attachments) is the lowest in the segment.
Comes with a degree dial and pointer for precision bending.
Its compact dimensions make it lightweight, portable, and easy to store or transport.
CONS: What can be improved…
With a significantly lower price, you also compromise on the build quality.
Basic things like a handle and stand need to be purchased separately.
Still requires concrete floor mounting like most manual benders
Our Verdict
The JMR Raceline tube bender is a very basic machine that is best suited for beginners and amateurs, not for heavy-duty use. If you are working on DIY projects without long-term commitments in mind, the JMR Raceline may be a good fit for you.
NOTE: Dies must be purchased separately.
Rating: 7/10
#7 Pro-Tools 105 Tube Bender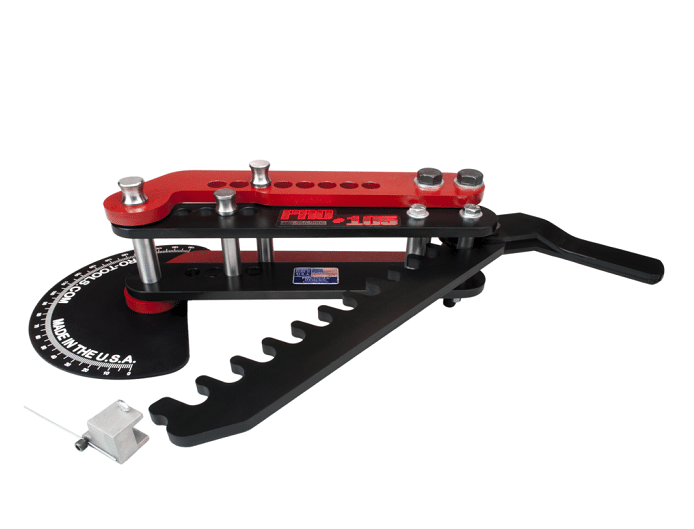 If you like the design of the JMR Raceline but would like something higher in quality, the 105 tube bender may be the right fit for you.
While this machine is smaller in size (and less popular) than the JD2 Model 32, it offers a similar build quality. The quality of both machines is so similar that people are often stuck wondering which one of them to buy.
For bending tube and pipe, the 105 is only rated by the manufacturer for Steel schedule 40 tubing. If you want to bend any other tube and pipe material, check with the manufacturer beforehand.
The maximum capacity of the 105 for tubes is 2 inches (outer diameter). It also works well for bending square tubes as well. Talking about the maximum degree of the bend, this machine can go as far as 180 degrees, just like the best entries on this list.
Keep in mind that while it supports a degree dial, it isn't included. You need to pay extra for the degree dial and the tooling.
PROS: What we like about it…
Affordable without compromising on the build quality of the product.
Good after-sales service.
Compact, lightweight, and portable in size.
CONS: What can be improved…
Degree dial and stand are not included with the product.
Pipe bending is rated only for Steel schedule 40 pipes.
requires concrete floor mounting like other manual tube benders
Our Verdict
If you want a simple, affordable tube bender without compromising on quality, you will love the 105. It supports pipes, round tubes, and square tubes. Make sure to get the necessary additions (such as the degree ring) if you buy it.
NOTE: Dies must be purchased separately.
Rating: 7/10
#8 Pro-Tools 105 Hydraulic Tube Bender
If you think that the 105 Hydraulic tube bender will be the same as the non-hydraulic version, you are completely wrong. The 105 Hydraulic takes the functionality (as well as the price) of the product to a whole different level.
To start with, this version extends the heavy-duty capacity of the machine to support 2.5-inch outer diameter tube sizes. Just like its basic sibling, this one also bends up to 180 degrees.
The best part is that it comes with an air/hydraulic pump in the box. You can choose to upgrade it to an electric pump for an extra $400.
Compared to other bottle-jack or hydraulic tube benders, you will find the Pro-Tools 105 Hydraulic to be easier to use. It will take you about a minute to change the tooling on the machine, which is quite admirable.
While the non-hydraulic version is quite affordable, the 105 hydraulic version is the most expensive tube bender on this list.
If you already have a Pro-Tools 105 manual tube bender, you can upgrade it to a hydraulic version by getting the conversion kit. However, the cost of this kit is about $1500, which can be seen as a little unjustified.
PROS: What we like about it…
High capacity tube bender.
Supports square and round tubes and pipes.
The stand comes included with the product.
CONS: What can be improved…
The price tag of the product is quite high.
Hydraulics are single-acting. See JD2 M32 hydraulic (above) for full details on single acting hydraulics
Our Verdict
Considering the price of the Pro-Tools 105 Hydraulic machine, it is ideal in case you want to upgrade from the manual version. If you are in the market to buy rather than upgrade, other entries on this list might be better for your needs.
NOTE: Dies must be purchased separately.
Rating: 6/10
#9: Affordable Bender (similar in design to Speedway, Low Buck, KAKA Industrial, Eastwood, etc.)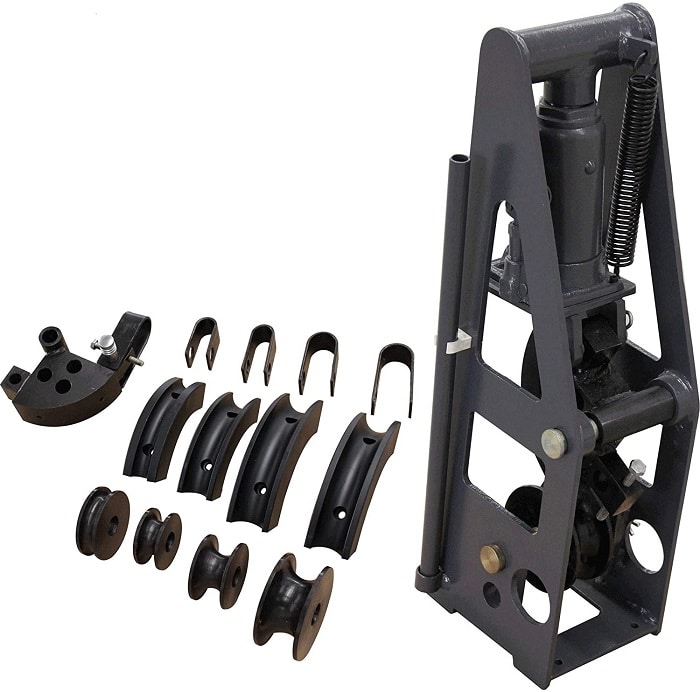 This lightweight tube bender is very popular nowadays. The original design was made by Affordable Bender (the company) and is still made to the day (in the USA). It has been reverse-engineered and imported from China under a variety of brand names like Speedway 3rd Gen Tube Bender, Seven Dies, KAKA Industry HB 8 ton heavy-duty stainless steel bender, Eastwood pro-former and more. We frown on these companies for copying another company's design.
The reason for its popularity and adoption by various brands like Kaka Industrial 8 Ton and Seven Dies is the price tag of this bender. For the price of a manual tube bender, you get an 8 ton bottle-jack hydraulic machine with several cast aluminum dies.
As you can imagine, this hydraulic tube bender doesn't directly compete with the top entries, even the manual ones. It only bends to a maximum angle of about 90 degrees, while the other products can do bends up to 180°. Despite the limitations, the original design (the Affordable bender) is a great solution for those on a budget for still want something that works and is supported.
While you will find the word 'hydraulic' and '8 ton' used commonly in the bender's sales brochure, it has a hand pump design for bending a tube. It needs a lot of manual force that other hydraulic benders avoid.
*Notes on editing: Prior to 2/27/2022 this article had a major technical error. The author we hired to write this content thought that the Affordable Bender was made the same as all the import's that used the same design (most likely without the owner's permission, but that isn't our investigation to make). The affordable bender is most certainly not made in China, nor has it ever been. We issued a public apology after the error was brought to our attention. We greatly appreciate all the support for Tom (creator of the Affordable Bender) and the number of you who reached out to help us correct this article. 
What we like about it
Cheap and affordable
Lightweight and portable
Easy storage
What can be improved
The product quality of the imported models in this group is not comparable to the best tube benders.
It cannot provide very customized or complex bends.
Bending angle is limited to 90 degrees.
Our Verdict
The Affordable Tube Bender is good for small jobs that require bends less than 90 degrees. If you want a product with professional features or a product that will deal with tight bend radii, this bender is not for you.
NOTE: Dies must be purchased separately in many models.
Rating: 6/10
Comparison Chart
Manual and Air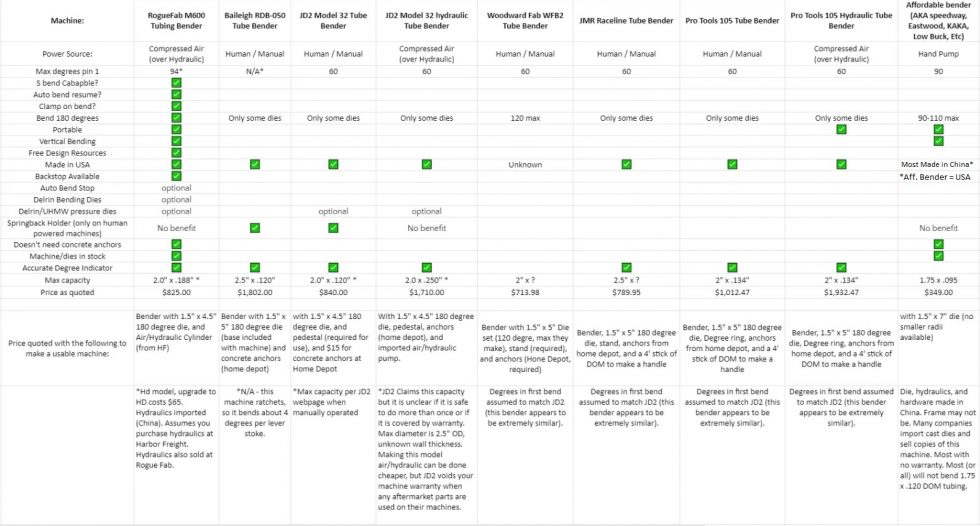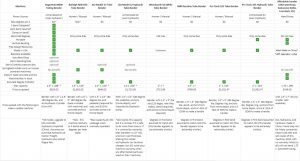 Electric Hydraulic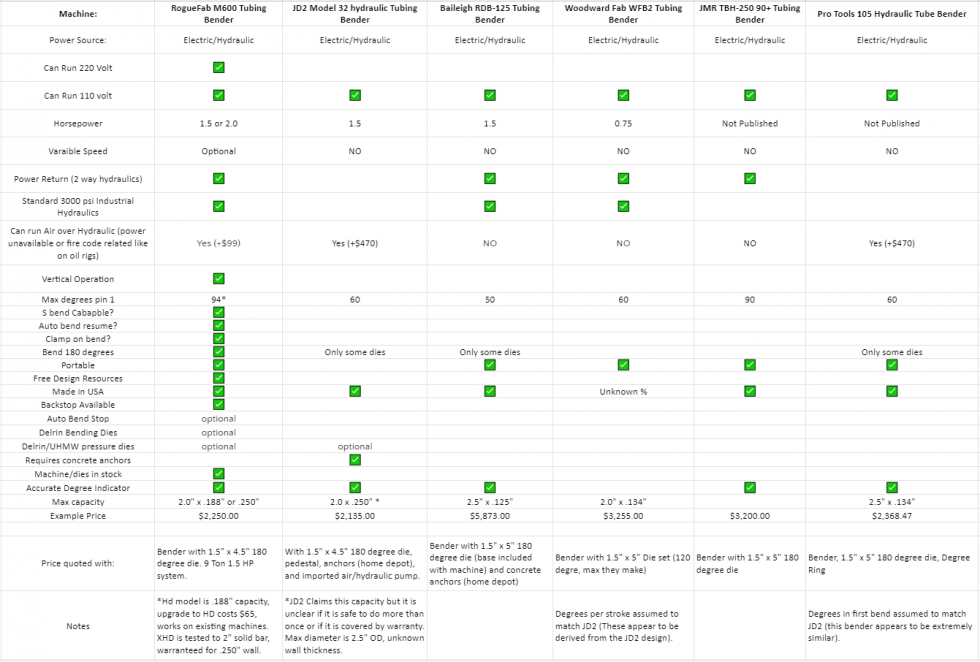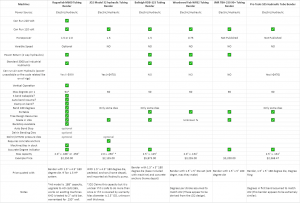 Endnotes
As mentioned at the beginning of this list, the best machine for you depends on what factors are important for you. In general, our recommendations are:
Best Budget Tube Bender: Affordable Bender
Best Roll Cage Bender: RogueFab M6xx (601/605/625)
Best Overall: RogueFab M6xx (601/605/625)
Best Capacity: Baileigh RDB-050
Best Accuracy: Any tube bender with a large degree dial.