Would you buy this (welding project / reinforced hitch receiver tube)
Topic starter
18/02/2021 2:18 pm
We need some advice. We think this would be a fun welding project and make a REALLY STOUT receiver tube. This is .238 wall receiver tube (inner, labeled as 1/4 wall for simplicity), and .250 wall outer as well. This is REALLY beefy. 
Curt (and other) receiver tubes are for sale at big box stores for about $20. 
This would be $45-55 retail and be unwelded (that is the point, it would be fun to weld, especially TIG). We got the cost as low as we could, and being made in the USA from material that is also made here is not cheap with the recent steel market movements. 
Simple question. Would you buy one? Reply as follows:
"A" - I would buy more than one. This is so cool.
"B" - I would probably buy one.
"C" - I would never waste my money on this! You guys are getting crazier by the day!
Or word-smith your own reply 😉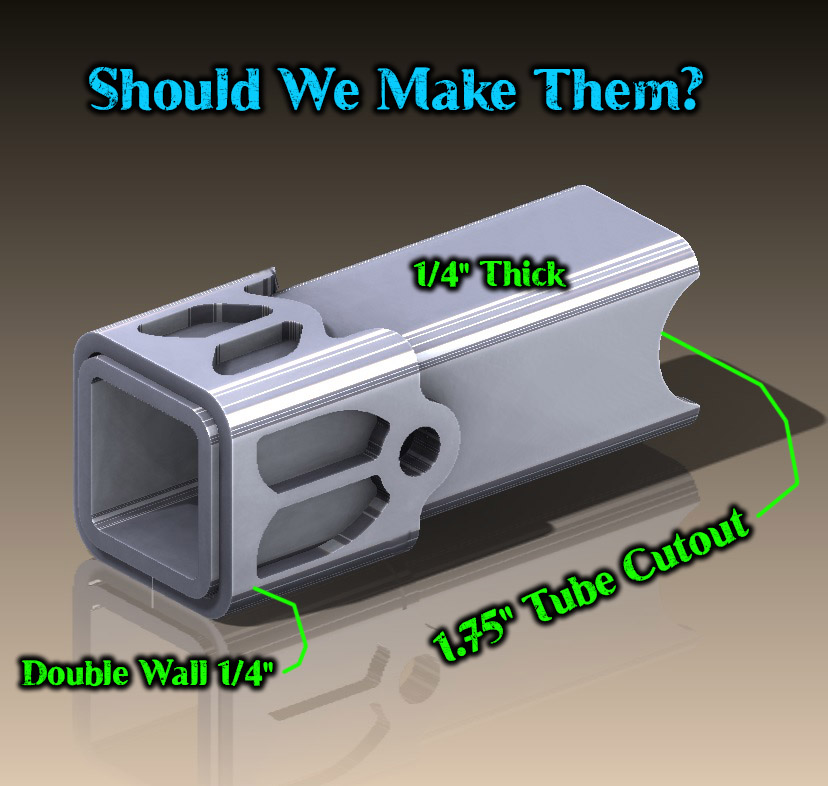 -The dude who started RogueFab
4Runner Build thread: https://www.roguefab.com/forum/projects-and-builds/rogue-fabrication-4runner/
B, but with gussets included for the tube for lateral loading issues and how about some small holes on the top and sides for lubrication. I seem to abuse my hitches and they end up rusted in place.