Description
Patented under USPTO 11478838
This attachment makes any M6xx series (M600/601/605/625) bender into a true Mandrel Bender! This attachment features CNC Laser cut and formed A36 steel frame components for accuracy and rigidity. The huge 1″ ACME drive screw extracts the mandrel with absolute ease. If you chose to upgrade your mandrel attachment to include our thru-mandrel lubrication injection system, you will enjoy longer mandrel life and even higher bending performance. On this page we teach you all you need to know about how our mandrel bender works, and how to order one and get everything you need.
This system is adjustable (up and down) to accommodate 2.5 CLR, 3.5 CLR, 4.5 CLR, and 6.0 CLR dies. The mandrel position is adjustable front to back to precision tune your bend, just like on large $100K plus mandrel benders. Mandrel position can be saved with an acme locknut for effortless repeat positioning. This attachment is meant to be used with our high nickel bronze alloy mandrels, which are a high strength industrial mandrel featuring good surface lubricity (again, just like on the $100K+ industrial machines).
This allows you to bend thin walled titanium, stainless exhaust components, header elbows, turbo manifold tubes, and more with ease. We keep accurate records of all of our testing and what position the mandrel is in so you can leverage our experience and expertise into your own success and profit. This attachment makes the RogueFab Model 600 the most affordable mandrel bender in the world that can bend over 1 inch OD steel tubing. And it's all made right here in the USA, from the mandrels to the frame components and machined parts to the ACME screw. Only limited hardware components are imported. The max diameter is still 2 inches, the same as the model 6xx series without this attachment. This attachment can start a bend up to 74″ from the end of the tube, and infinitely far from the end sticking out the front of the machine. We also have length extensions for anyone who wants to bend 20+ foot sticks of tube in the middle (link).
What is new in version 2.0?  The frame has many new features to allow the attachment to be expanded into even higher wall ratios (thinner tubing), and lower D bends (tighter bend radii). It will also accept the tooling were developing in 2022 for even higher performance bending (for release in 2023 or later).
No mandrels or lubrication are included, Please return to the mandrel bender products category to shop for mandrels and lubrication. This attachment can store on your wall with our wall racks (link) and when installed on your 6xx series bender, the whole assembly is about 10 feet long.
More info on the mandrel tube bender machine in our videos:
Mandrel bender in action:
Ordering Tips:
We have been designing machines to use this mandrel attachment for years, but not since the beginning of our company and machine design. Please read this whole page to understand exactly what you need to use the mandrel attachment.
1. The mandrel attachment requires a working bender.
2. Just like your M6xx series bender needs a die for each tube size, your mandrel attachment needs a mandrel for each application. The mandrel is the bullet shaped part that holds the tubing open during bending. We show them in our videos (above).
3. Every die you want to use with a mandrel will need a roller pressure die. For any application larger than 4.5 CLR, you will need TWO (2) roller pressure dies. This is critical.
4. Mandrel bending is a high friction process and it requires lubrication. We sell very good lubrication (Bend All 004).
MACHINE COMPATIBILITY:
Machines that are compatible with mandrel with no frame mods – all machines WITH a hole where the arrow below is pointing. This is all machines made after the middle of 2016 or so.
Machines compatible with mandrel with simple mods – all machines WITHOUT a hole where the arrow below is pointing. This is all machines (standard and xHD) made from November 2014 until the middle of 2016 or so. We will make retrofit kits that will include weld on tabs and templates for these machines.
Pre- Nov 2014 machines are not compatible with the mandrel attachment. See our FAQ for how to tell if your machine was made before Nov 2014.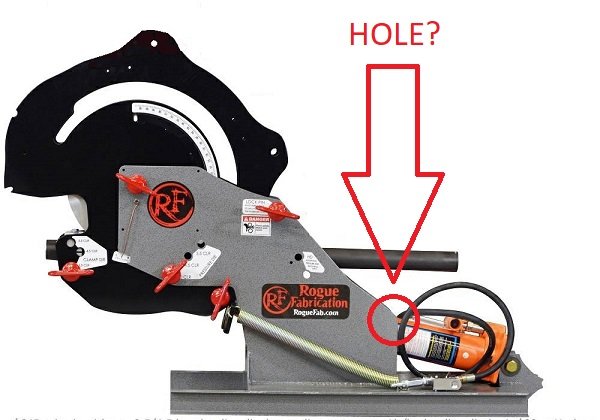 Here is a Model 600 from back in mid 2014. This machine can work with the mandrel attachment, but with modifications (we haven't developed a retrofit kit yet). This will only work with 3.5 and 4.5 CLR dies, not 6.0 with the mandrel.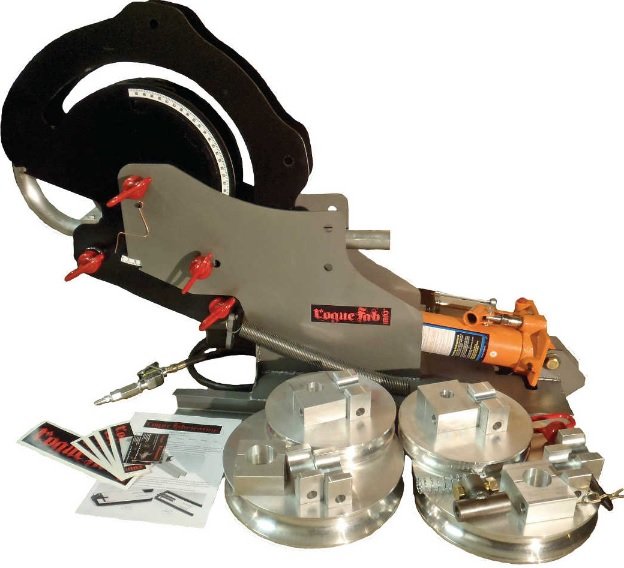 This may work with the TWR (Thin Wall Roller). This doesn't work with the Backstop assembly, as they attach in the same place. This works on our carts. This works with all of our electric/hydraulic power systems. This works on M600 xHD, M600 HD, M605, and M625 Models. M600 standard and M601 models can also be used, but need to be converted to HD/605 first. This works with our pedestal mount on our cart with a Versanotcher, but ONLY when you have our offset bracket installed (see VersaNotcher listings in our store for the offset bracket).